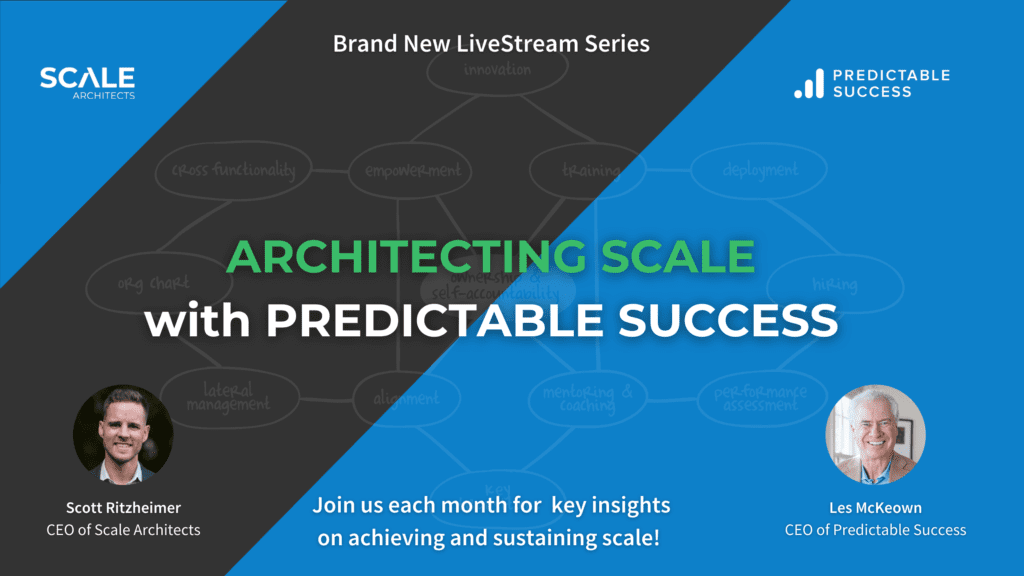 Using one of the most powerful tools in the Predictable Success toolbox, the Predictable Success Scalability Matrix, this livestream series will walk you step by step through the precise roadmap you need to scale your organization.
Whether you lead a for-profit or not-for-profit, whatever size your organization is, irrespective of your industry, niche, market, or who your organization serves, throughout this series, you'll learn:
The 13 'things' you need to work on to scale your organization (we call them 'Scale Imperatives') – no more head-scratching and wondering 'What exactly do I work on next to grow my organization';
The 5 Key Factors that make or break each Imperative (each of the 13 Imperatives has its own 5 Key Factors – we'll teach you what they are and how to implement them) – no vagaries, no guessing, no academic jargon – we tell you exactly what to work on, and how;
How to implement the Key Factors at speed – each month, after every livestream, you'll be ready to execute and implement immediately.
How to build in sustainability – no more growth spurts followed by backsliding – we'll show you how to make your growth plan stick;
How to bring your team with you. This livestream series not only gives you the precise growth roadmap you need, but we also teach you how to develop your growth team at the same time;
And much, much more.
The Series: Architecting Scale with Predictable Success
Over the course of one year, we will unpack 12 imperatives from the Predictable Success Scaleability Matrix. Together, these imperatives offer a comprehensive roadmap for scaling up any business, church, nonprofit, or governmental unit!