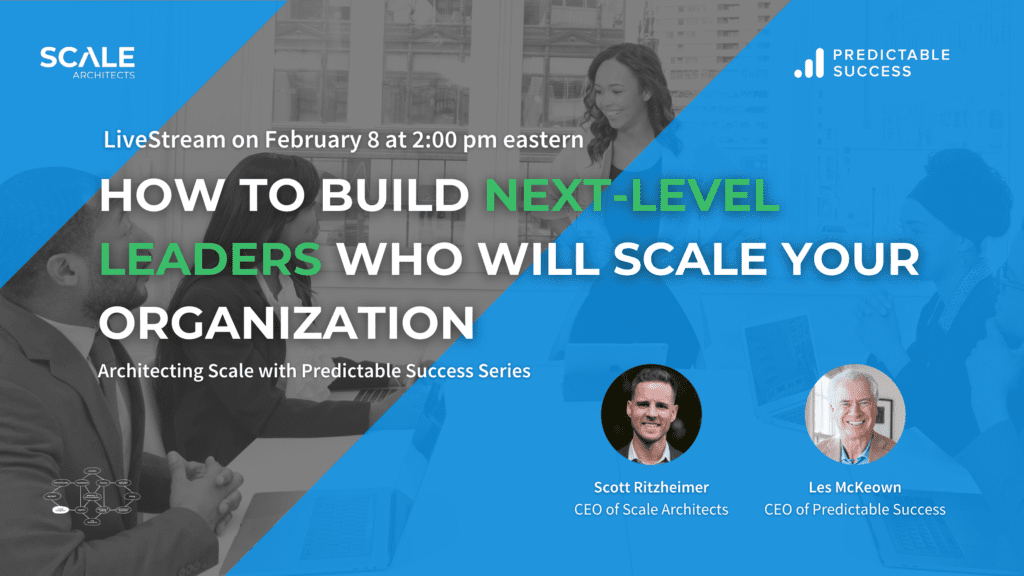 Event Recording
Free Resources
Keynote
Deck
Download all the slides from the How to Build Next-Level Leaders Who Will Scale Your Organization LiveStream.
Lateral Management Flashcards
Remind your team to keep the Enterprise Commitment and VOPS Leadership Styles front and center!
Internal Customer Pair Worksheet
Use this template to outline expectations and requirements for each internal customer pairing
On the call Les also mentioned a decision-making resource. You can access it using this link!
How to Build Next-Level Leaders Who Will Scale Your Organization
Which is greater, your vision for your organization's future or the capacity of your senior leadership team?
If you are a Founder or CEO of a $1M+ business, you've probably come to recognize how important your senior leadership team is to your success. You can't do it on your own. You can't make all the decisions or manage all the people. You need strong leaders who can share the load.
However, in my work and in my own experience, I've realized that the team who got you here is seldom the team that will get you to the next level, especially if they keep leading the way they are right now.
Until now, what was necessary and incredibly effective for your leaders was to be great at what we call vertical management. Someone reports to them, they report to you, and everyone is happy. They hold their team accountable for results, and when those results aren't achieved, you hold the leader accountable.
Vertical management is a necessary management skill, but it is only half of the equation for leadership. To achieve the next level of growth for your business, you need leaders who not only manage vertically but also lead laterally.
You need a team that can come together and make high-quality decisions that move the whole business forward rather than a group of managers who come together to lobby for their team's needs and wants and opinions or even their personal leadership style.
In this session, we will share five ways you can take your leadership team to the next level.
Here's a sneak peek at what you will learn
This LiveStream event will show you five ways to take your leadership team to the next level and create the capacity you need to enjoy the success you've worked so hard to create. And here's the best part, if you implement even just two or three of these strategies, you'll start to see remarkable changes in your ability to execute and move your entire organization toward your shared goals.
Here is a sneak peek at the five ways you can exponentially improve the leadership capacity of your senior leadership team.
Unlock the power of the Enterprise Commitment
Break down silos and fill in the communication cracks with Internal Customer Awareness
Spend less time in meetings AND get more done with the 4D Decision-Making Framework
Understand and overcome decision-making and execution challenges with the 3i Toolkit
Discover the nine essential skills for 21st-century leadership
Together, these five strategies will allow you to build a senior leadership team that can make you faster and further toward your grand vision than ever before!
Register now and join us on February 17th for How to Build Next-Level Leaders Who Will Scale Your Organization for You.
How We Can Help!
Do-It-Yourself
You can architect scale yourself using our expansive suite of training courses and live events that are designed to help you reach Predictable Success!
Coaching & Consulting
You can bring in a knowledgeable Scale Architect we've personally trained to help coach you and your team into Predictable Success!
Train the Trainer
We can train one or more of your current leaders to become a Scale Architect within your organization to help you reach Predictable Success!