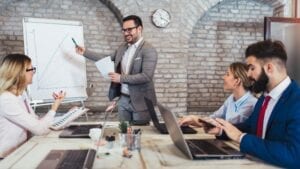 It's time to scale
The Diagnostic Workshop is a one-day workshop that is guaranteed to change the trajectory for your organizations and allow you to achieve greater success without the hustle or the stress.
Get ready for the next stage of growth
You did it! You started your organization with nothing more than a dream and a willingness to roll up your sleeves. You made it up as you went, and now you're leading your very own multi-million dollar enterprise.
You should be feeling amazing.
Then, why are you not jumping for joy? Because now, for some reason, you seem to be working harder and harder, dealing with more and more stress, and spending less and less time with your family. But what do you have to show for all this extra effort?
Does your organization not feel as agile as it once did?
As companies grow, they become bigger. From the outside this looks like a good thing, but it can painful inside the organization. Getting stuff done gets harder and harder and can grind to a halt. I'll show you how to get your agility back without having to be a small organization again.
Are you working harder than ever, but not getting a return?
Leading a growing organization is a ton of work. You have so much work to do, and instead of focusing on what needs to be done, you have to spend all your time trying to get everyone else to do their jobs properly and work together without throwing fits or fighting with each other.
You are confused about how to move forward?
What do you do when past growth strategies stop working? Does that mean you've maxed out? Not at all! Your organization has entered a new growth phase and needs a new growth strategy. Every successful enterprise experiences this problem. I'll show you how to overcome it!
It's not your fault.
Every successful founder finds themselves in this same position. It happens not because you did something wrong but because you did something right. You chose the path of hands-on hustle, which is exactly why you succeeded. But now it's exactly what's getting in the way.
Let me show you how you can transform and get your organization ready to crush the next growth stage!
Imagine what it would be like to…
With the Diagnostic Workshop, you'll enjoy all these incredible benefits and more for years to come!
Unlock the Capacity to Scale
Scaling isn't about growing faster. It's about removing the limiter altogether so you can grow as big as your market will allow and stay in control every step of the way. You don't have to ride the wave any longer. You get to make the waves.
Expand Your Operations
The key to explosive growth is to replicate your success in new or larger markets. You'll learn how to balance vision, execution, and systematization. When you do, you'll be able to profitably open new locations and expand into new markets with ease.
Generate New Revenue
Say goodbye to hoping for 10-20% revenue increases, and get ready to 10x. With the right infrastructure in place, you'll be able to rapidly AND sustainably increase revenue.
Reduce Costs
How much is confusion, infighting, rework, or late deliveries costing you? To scale, you need a way to systematically overcome the complexity that is driving cost overruns across the enterprise.
Increase Profit While You Grow
Just about anyone can increase revenue OR decrease costs, but the real magic happens when you do both simultaneously. Using one unified system, you'll be able to stop the bleeding internally and open the door for new opportunities externally.
Start Dreaming Again
We'll break through the monotony and create a structure that allows others to carry the load giving you time to focus and space to dream again. We'll also build your staff's capacity to execute on your vision and move your organization forward.
Tame Your Inbox
Many founders and CEOs find themselves buried under tons of information and exhausted by decision-making overload. You'll be able to let go of all that pressure and share the load with your senior team and managers as well.
Enjoy More of Your Time
Take a vacation and actually take a vacation. Unplug. Rest. Enjoy yourself. When you get back a week (or even a month) later, you'll find the organization better than you left it. There is nothing more freeing for a founder!
What's Included
In this powerful and thought-provoking session, one of our skilled and highly trained Scale Architects will help you and your senior leadership team discover exactly what's been holding you back from the next iteration or the next evolution of hassle-free growth.
In just one day you and your leadership team will:
Solve the root cause that has holding you back instead of chasing symptoms
Learn how to navigate the growth stages every successful organization faces
Have a shared language to explain where you are, where you're going, and how to get there.
Understand what is causing your team to gridlock
Learn how to honor and value the contributions of all four lead
Prevent your style's dark-side from running the show
Discover how to consistently build high-performing teams
Unlock the specific strategy to scale your organization
Discover how much you can say no to while increasing your success
Have a written 6-month action plan to transform your organization and your results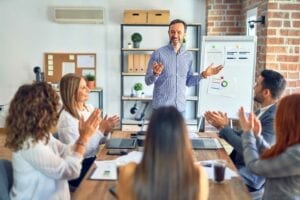 It's so much more than a team workshop:
The Diagnostic Workshop includes:
Pre-event strategy and planning Zoom call
Full team leadership style assessment and report
A full-day in-person leadership team workshop (virtual options available)
Participant workbook for each attendee
A high-leverage, six-month strategic plan
Additional tools, assessments, and worksheets you can use to implement with ease
Post-event accountabililty Zoom call
Phone, text, and email support from your Scale Architect
and more!
The Scale Architects Acceleration Program
The Diagnostic Workshop is the first phase of the Scale Architects Acceleration Program
Phase 1:
Diagnose
The transformative Diagnostic Workshop will set you, your leadership team and your organization on a new trajectory so you can Achieve Predictable Success
Phase 2:
Accelerate
Our Scale Architect will join your and your team and guide you on the journey to achieve Predictable Success with expert coaching and three high-impact Accelerator Workshops
Phase 3:
Scale
Once we've done the "dirty fingernails work" needed to achieve scalability, it's time for you to reap the rewards, step on the gas, and make the most of Predictable Success.
Schedule Your Free Consultation
Schedule your free consultation today to discover how just one day can positively changed your organization forever!
When you schedule your free consultation, you'll get instant access to the first chapter of our Wall Street Journal Bestselling book Predictable Success: Getting Your Organization on the Growth Track – and Keeping it There so you can discover the key to unlocking scalability for your organization!