In this no-bs episode, Donnie Boivin, Founder and CEO of Success Champions, shares how he helps his clients identify and create the strategies that will catapult their business to the next level and help them remove the head trash that is keeping them from doing the tasks needed to grow their dream business.
You will discover:
– Why sales are everything but not enough to get your small business off the ground
– What you need to know but no one will tell you before you start a business
– How to never fail even though you never stay still
Episode Transcript
Scott Ritzheimer
Hello, hello and welcome welcome once again to the secrets of the high demand coach podcast and I am here with yet another high demand coach and that is the one and only Donnie Boivin. He is a five time best selling author and an entrepreneur who serves as CEO and founder of success champions and success champion networking, Don is considered one of the leading global minds on sales, business development and business growth. Don is a community builder at heart he builds champions today he helps small business owners leverage sales and business development to grow and then scale their business through the success champion networking badass Business Summit and champions table masterminds and the champions 90 challenge. Donna, you seem to be about the world's busiest man, thank you so much for making time to be with us here today. Now, before we get into just the phenomenal work that you do for your clients, I'd love to take a step back and just hear your story. What were you doing before starting all of these different endeavors before helping folks with their business development and sales? And how did that ultimately lead you to make the leap?
Donnie Boivin
Yeah, so I did four years in the Marine Corps, and I did 20 years of straight commission sales. So I've never really had a salary job in my life. I sold from Fortune 500 to mom and pops. And I turned 40 before I even knew that you could do this thing called be a business owner. You know, though back in 2017, I heard the likes of guys like Gary Vee Tim Ferriss, you know, all talking about being a business, start a business, they made it sound easy. So I made the leap. In the midst of I was buying out my partner at the time and decided I wasn't gonna go that direction, I was gonna start my own company and give it a go. Six months into trying to run my own business. I, my wife asleep upstairs, I walked out the back door and her Jeep was missing. I called the police to say, Hey, I think my jeep has been stolen. And they said, No, sir, it's been repossessed, I had to go in there and tell my wife, the rest of the story is on top of all this stuff, we have a full working farm, I build a second house on a property from my mother in law. And we were in the brink of losing all of it. I had no idea how to run a business. You know, I had been a sales guy. And I thought, you know, transitioning from sales to business owner was gonna be easy peasy. Well, it obviously wasn't. But you know, was able to turn the companies around and get where I am now. So I went from literally having a cash in both our 401k is to say the farm get a Jeep back to building our global brand that we have now. So I love sharing that story. Because I just want people to know that I've actually been through it. Yeah. And I understand where they're at where they're trying to get to. And, you know, that's the nickel tour.
Scott Ritzheimer
Yeah, yeah. You bring up this great point. And it to me, it's one of the biggest injustice has done to the entrepreneurial community. And it's not done intentionally. But this idea of making starting a business sound easy. Yeah, it's the truth of it is, is it's not hard to understand. Right. But it's hard to do. It takes hard work to do it as a better way of saying it. So this, you know, as you jumped into it, and even on the flip side of it now, now that you help folks, how would you describe it? Do you think starting a business is easy? Where do you stand on that?
Donnie Boivin
So starting a business? No, it's not easy. Is it hard work? Absolutely not. And the reason I say absolutely not, is you're absolutely going to work harder than you've ever worked in your entire life. Right. But I'm not the hustle and grind guy. There's, there's so much about running a business that you literally just have to go through that nobody's just going to teach you all the shortcuts. And I tell most people that and I'm not a coach. But I tell most people don't even look at a business coach of any sort until your two three years in the business of getting your teeth kicked in, you know, the actual problems you need to solve in your business. But starting a business in this day, and age is the stupid simplest thing in the world. Meaning if you have a cell phone, you can start amazing an internet connection. I mean, the people all over the world prove this time and time again. So what I think people don't wrap their head around is what they actually want to do. When it comes to their business what they want to accomplish. Most people who start businesses really just want to put their feet up, set their own hours and create this kind of part time habits and stuff. And hopefully that the revenue is going to come in and what I mean full honestly, that's basically what I thought I was going to be able to pull off that I was gonna be able to create this business at worked around my schedule, you know, and the complete opposite of that is true, because to get a business off the ground is gonna require a lot of energy. That portion is hot. Art, but business itself is just math equations. Yeah, it's you do enough of this, it leads to enough of this, it leads to enough of this, you feed the machine called a business, you rinse, wash, repeat, and you continue to go. Yeah, it is not that complicated until you make it complicated. You know, but most people, because they've never sold, they've never been in a situation where they've got to be self sustaining, just hated what they were doing in their life, said, Now I'm going to start a business. And they're not prepared to meet the dude in the mirror, which the business is gonna force you to do.
Scott Ritzheimer
Yeah, in a big way. And there's this interesting pattern that happens with a lot of folks. And, you know, it's been in book after book, it's not anything new. But a lot of folks think that business is doing whatever it is that they do, right. I'm a, you know, I make widgets, I'm gonna go make widgets for myself for and what they they fail to recognize is that making the widgets isn't selling the widgets, right. And there's that whole aspect of it. Now, I'm interesting, I'm interested in your story, because it's almost the opposite side of that, where you had the sales background, what was it about moving into being business owner that was so challenging coming from a background of sales.
Donnie Boivin
What you don't see is when you're a sales guy working for others, is all the other moving parts. So now I was in a situation where I could still sell and I sold a bunch, but then I had to deliver, then I had to do operations, then I had to do a county, right, then I had to do all the other processes and steps in between that I had no damn clue how to actually do. So a lot of my sales early on, were just transactions. I mean, it was like I was a life insurance guy or something, and I've just selling one off, and then it would go away. And, you know, nobody tells you that, you know, you need to figure out a way to onboard your clients. And nobody tells you that you need to figure out a way to keep your clients and your client should become your biggest sales force, because you should be delivering so well for them, that their word of mouth is creating the rest of your business for you. Right, nobody was out there preaching your sales to Alex or Moses doing a lot now, which I'm really enjoying his stuff. But when you you know think about it, is you likely have one set of skills to be a business owner, I don't want to say you're gonna be the jack of all trades, but you got to have working knowledge of a lot of things. And that working knowledge is gotta get you to a place where you can hire people that have the skill set, to really be experts in those places your weekend. You know, it's like, accounting, finance, all that stuff, I had to go find people, I don't know accounting and finance, I didn't know what the heck a p&l was, you know, and those types of things, you could bring those types of people in operations, I should never be a part of an operations team, I should never be part of a customer service team. So I had to go find people that were skilled in those arenas. But to do that, I got to be able to get enough business that I can afford to pay those type of people. Right. So the first thing most people have to do is they have to learn how to sell, they have to learn be able to go out find people that don't know anything about them their product or service and get them to say cool, I'll take that. And I got to do that enough times while keeping those clients you know that they can get enough revenue coming in that they can go build up the rest of their business.
Scott Ritzheimer
Yeah. And so you kind of insured this in your story of kind of being down in the belly of this the entrepreneurial journey and realizing something has to change and you fought your way back out of that. You also mentioned not being a hustle and you know, max effort kind of guy and and working hard. So there's, there's all these these tensions in entrepreneurism where it's not just this right, it's this and that and the other but what was it that really turned things around for you? Was it a mindset shift? Was it a change in your activities? How did you do that?
Donnie Boivin
Man, it was a it was a chain of activities, but probably my favorite one was working my farm. You know, there's, there's all this idea of the hustle and grind and it's only a hustle and grind. If you hate doing it, okay. So I have a full working farm goats, chickens, geese, ducks, and amongst all the rest of the companies. I don't get a good day off when it comes to the farm. Those goats can't lift themselves out of the barn. They can't put themselves up chickens can't let themselves they can't put themselves up to give this in perspective. two weekends back, went out with some friends stayed out later than we probably should have. You know, and I came home so Saturday, Sunday morning, when I usually get up at 350 every morning. I slept in that morning, and then I didn't get out to take care of the chickens till about 930 Almost 10 o'clock. By that time it was already over 100 degrees out. My chickens were still locked in their hen house. And I we lost one of our prized roosters, it died of heatstroke being in there. Right my fault 100% Mine neglected my part, right. So what I want people to understand is running a farm I don't get a day off running a business. You don't get a day off. Right? You got to do the work until The works done, it's not a hustle and grind, it's the minimum requirements, right? It's the things you have to actually do. If you look at it as sports, this is a blocking and tackling every day, you're gonna have to do some sort of business development every day, you're gonna have to do some function inside of accounting every day, you're gonna have to do some function inside of operations, right? We've built our company around the lifestyle we want to live. But it took a lot of work, and energy to be able to get that off, it took a lot of years of doing the things I didn't want to do to get there. That's where everybody thinks is a hustle and grind. And it's not the hustle and grind. It's the minimum requirement, you got to do the work until the work is done.
Scott Ritzheimer
Yeah. Yeah. On your website, you mentioned helping folks scale and you identify this issue that a lot of especially newer business owners have not necessarily newer, but earlier stage business owners have? Have it's one step forward, two steps back, it's this roller coaster of entrepreneurs, don't we have this massive success? And then it feels like to outsiders? What just happened? Right? How do how do folks overcome the volatility of that and start taking one step forward? And then another step forward, instead of two steps back?
Donnie Boivin
Look, let's be honest, entrepreneurs are the craziest people on the planet. I mean, we're the only people in the world that wake up every morning, knowing we're gonna get punched in the face, and smile and say, Cool, let's go again. Right? So part of it is just knowing that this is part of the game. Okay? You know, you there's so many unplanned things that that happen, that you just gotta be able to learn to take the punches and keep moving forward. And everybody always says, Remember why you got in the game and all that stuff? Remember, this is all part of the process. So for me, it's, it's the minimum requirement, I'm gonna keep harping back on, this is the things you have to do. All you're trying to do on that journey is to thin out those, those valleys and those peaks, right? You want that as a flatline as possible, you know, there's going to be inevitable things like you could never plan for a pandemic, right? Nobody would have ever thought something like that was going to happen. No, your job is to be able to make the decisions fast enough with with the smallest amount of risk you can possibly tolerate, and flatline that as much as you go. And I would tell everybody to look at life in general, as an experiment, then you never fail, right? You're experimenting, you're trying something new, you're trying a different way to give it a go. And that really helped me out a lot. But my favorite thing, especially for young entrepreneurs starting out, is I always felt like there was people watching me like I was in the stadium. There's crowds all around me. And the one thought process kept me pushing forward early on. And I put it my head wasn't true. But I put it in my head to all those people watching me. Or seeing if I would quit if I would throw in the towel. Because if I quit, they don't have to do it. They don't have to get in the game, because it's too hard to the Donnie can't do it. They can't do it. So I kept telling myself, dude, I can't throw in the towel, because then I proved them, right. And that fictitious story that I told myself over and over again, got me first through that first couple of years of, you know, the tremendous high and the really drastic lows. And all the times you're like, Man, I should just go back and get a job. I should just quit. Right? Every one of us does it. Yeah. You know, so it's minimizing, you know, the ups and downs through through a lot of it. And I go on and on, but processes and systems are the number one thing you got to do with it.
Scott Ritzheimer
Yeah. Another thing that you mentioned was a big part of what you do with clients is help them get out of their own way. Right? The head trash that shows up one of the things that I think most entrepreneurs underestimate is the personal toll that it'll take to get through the journey. And so what's some of that head trash and how can we overcome it?
Donnie Boivin
So first of all, nobody tells you you're gonna meet the man in the mirror. As you're building a business, it's a flat object, you're gonna find out what the hell you're made of. There is no other vehicle thing on this planet, to see your strengths and weaknesses, on display as building a business. So, your people come from two walks of life. You're either a doer or a feeler, a doer. Let's say you're gonna go to the gym on Monday. You're like, alright, Monday, I'm gonna start working out. Well, Monday morning, walks around, and it starts raining. It's cold. It's miserable. The feeler says, Man, I ain't going out there and that rain is cold. I just don't feel like going the doer goes las because it's raining. Let's get this right I'm gonna get it done. Right and they're gonna do it no matter the cost. You know, along the lines. Most people live on the field side of things. Right so the head trash that pops up where they get everything from comparisons theory to they don't believe they belong in that room, or you want me First thing pops up in somebody's head, all becomes from feelings. They don't feel like they belong. They don't feel like they're gonna have that conversation. They'll feel like they could ask that question. If they will go back to the basics of just doing, right. Don't think about, how's that person going to see me? Just go do go talk to him. Right? Think so everything comes after you we take some sort of action. It's like going to the gym on days you don't want to go. You feel better afterwards. Same thing here, turn off the fields turn on the do and just go.
Scott Ritzheimer
Yeah, yeah. Excellent advice. And so it actually brings me to my next question. I like to ask all my guests this. And it is, what's the biggest secret that you wish wasn't a secret at all? Well, what's that one thing that you wish everybody listening or watching today knew?
Donnie Boivin
That you should actually build a company and not a job, what most people are doing is building a job and not in business, right? Your business is going to work on you a hell of a lot more than you will ever work on it, right? It's just how it is. So what people need to understand is your business is not you. Your business has no emotion to you do your business is simply a machine. So literally, bind people, feed the machine, keep those people happy. Put the process and systems in place. Let those people find you more people, rinse, wash, repeat. And you do this over and over and over again. What most people are trying to do is they're trying to treat your business like they're a salesperson, I need to go get this one person, I mean, deliver and help this one person, get them what they need, and then go on to the next and I'm gonna go find the next person. You got to build an entire machine, you got to build an entire process.
Scott Ritzheimer
Yeah, so true. So true. And so one other question, will you shift gears on you a little bit and have you take off your, your sales coach hat, right, your advisor hat, and have you put on your CEO hat and talk to us, you know, get back in the ring for a moment and talk to us a little bit about what the next stage of growth looks like for you and your business and what challenge you'll have to overcome to get there?
Donnie Boivin
So we're on a really massive growth phase right now inside the company. And we have been focused so focused on word of mouth in our business for so long, that we hadn't actually started punching out and going, Okay, what is our real outbound strategies? What are our real tactical marketing strategy? So we're investing heavily in tech teams, doing an entire brand review in the likes to get everything positioned and alive. So because we got the back end system, everything just so dialed and now it's time to go for scale? So a lot of it is new outbound. A lot of it's coming up the new tech, we're moving into VR, we're moving into AI, we're moving into the metaverse, you know, there's just a lot of moving parts, you know, coming head. So we're now trying to really get on that train and get up ahead of it a little bit.
Scott Ritzheimer
Yeah, yeah, it's fantastic. It, it's an interesting thing, because you never graduate from the next challenge. There's this sense of like, you know, if I can get there, it'd be a lot easier. And to an extent that's true, right. But as you know, even if it is true, we're just wired to go after the next big thing, right. So if it's not hard, it's not leading business. It's not growing, it's not scaling. But it also is a joy to do it. So, Donnie, thank you so much. I know that folks are listening to this. And I've gotten to know more about this guy and how he can help. So how can folks find more out about your work and connect with you?
Donnie Boivin
Yeah, so the best way to get in touch with me. And before I do that, guys, if you'd hung out with me and Scott this long, and you got any value out of this, any tips, tricks, something that was tangible, do Scott a favor and share this episode out with one other person. I have my own podcast, I can tell you one of the toughest things in the world is actually growing an audience. So if any of this episode or any of his other episodes have been value, share it out for one person. And it's literally like you walked up and gave a virtual hug, he'll love the hell out of it. So and then for me, if you'll text the word "success", to 817-318-6030 I'll send you a video with some trainings and some different options and things I'm going to get you to all my social media, but that word is "success" to 817-318-6030 and it'll get you everything from there. That's fantastic.
Scott Ritzheimer
We'll drop that in the show notes for those of you who are listening while driving, don't get in a wreck. Everybody else check it out in the show notes text "success" over to Donnie and you will not regret it. Donnie, thank you so much for being on today. It's just an absolute honor having you here. And for everyone listening you know your time and attention mean the world to us. I hope you got as much out of this conversation as I know I did. And I cannot wait to see you next time. Take care.
Contact Donnie Boivin
Donnie Boivin is is a five-time Best Selling Author and an entrepreneur and serves as CEO and Founder of Success Champions and Success Champion Networking. Donnie is considered one of the leading global minds on sales, business development, and business growth. Donnie is a community builder at heart — he builds champions. Today he helps small business owners leverage sales and business development to grow and then scale their business through Success Champion Networking, Badass Business Summit, Champions Table Masterminds, and the Champions 90 Challenge
Want to learn more about Donnie Boivin's work at Succcess Champions? Check out his website at https://donnieboivin.com/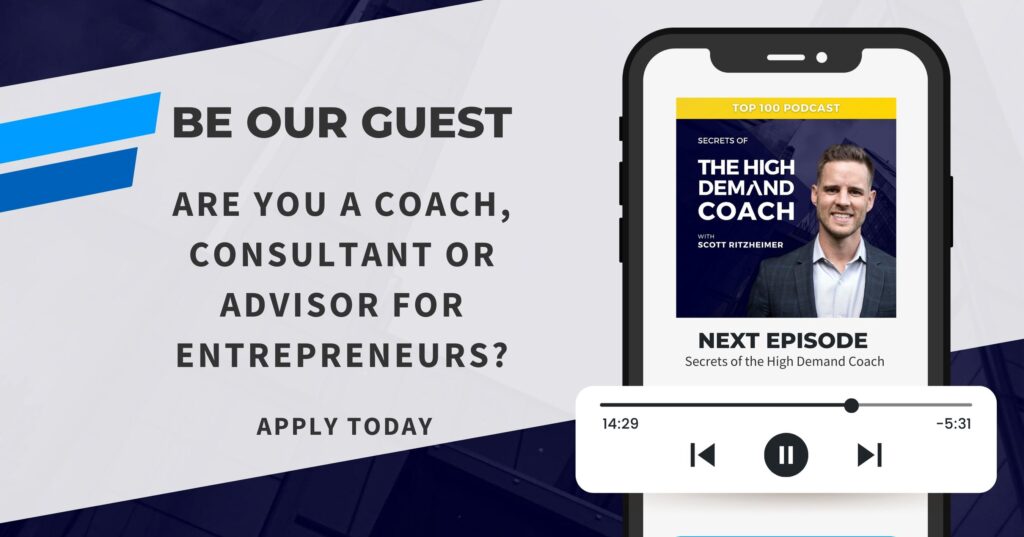 Podcast Booking Status: Open
We are looking for podcast guests, and we want to share your story.
Are you a coach, consultant, or advisor for entrepreneurial organizations? If so, let's do a great show together – and we can promote you to our audience on all our social media channels, website, and email list.

Guest requirements:
As a coach, you should be experiencing some very good momentum AND be grossing $100K or more annually. We'll be talking about how you help your clients achieve extraordinary results.
Consider yourself as equally people and results-oriented in your mission.
High-authority expert management and independent coaches who work with founder-led entrepreneurial organizations of 40 or more employees. We also encourage guests that are operations/strategy and culture consultants, advisors, and leadership coaches to be guests (no specialties in marketing, branding, sales, or IT, please
Please, no new coaches (under 3 years), published authors, non-independent coaches, or non-business coaches/consultants.