In this transformative episode, Tanessa Shears, Owner of Tanessa Shears Consulting, shares how she went from being a swimming instructor wading in a cold pool for hours every day to helping 6 & 7 figure entrepreneurs double their energy and focus so they can show up in their business and life at their very best.
You will discover:
– The surprisingly simple but counter-intuitive first step to doubling your focus and energy
– Why most of the talk on eating right misses the mark for entrepreneurs
– How to overcome stress and build resiliency by adding the right stress at the right time
Episode Transcript
Scott Ritzheimer
Hello Hello and welcome. Welcome once again to the secrets of the high demand coach podcast and I am here with yet another high demand coach and that is to Tanessa Shears. She is a kinesiologist, a certified sleep science coach and a health consultant. All in one. I don't know how she does it. But she she uses all of those skills to help entrepreneurs double their energy and focus so they can make more money in their business with her 12 becoming limitless protocols. She works very closely with business owners to eliminate brain fog and wake up well rested so they can get more done in less time, maintain consistent stable energy throughout the day, and feel better than they have in years. Tanessa is also the host of the becoming limitless podcast. So go check it out. And finally sharing her expertise there on optimizing health and focus for business success. Well, Tanessa, I have so many questions already. I don't know how we're gonna get to all of them in one podcast. But before we get to any of that, I'd love to just open it up for you. And what were you doing before becoming a Kinesiology certified sleep science coach and health consultant who helps entrepreneurs and how did you ultimately make the leap?
Tanessa Shears
Yeah, what if I told you that it started in a swimming pool? Because that's actually that's actually where it started. I am always as I was going to university, I was a swimming instructor. And I was teaching little kids how to swim. And when you do that for 20-30 hours a week, you're cold, you're tired of the kids like you the whole deal that goes on with the poor. And the supervisor said to me, they're like, you know, Tanessa you can get out of the teaching swimming lessons if you want to teach the seniors Aqua fit class and I was like, Sign me up. I don't care. What do I need to do? Just give me some variety. And so what naturally happened is as I became an aerobics instructor, this is like back in 2007. I was like, This is my jam. So much so that I like marched into the registrar's office at the University and was like, I don't want to be a news anchor anymore. I want to study the body, I switched my whole major over. And then in 2013, when I graduated as a kinesiologist, I was like, I want to open my own business, I had been personal training for years at a big box gym. So 2014, I opened a personal training company, obviously, which has evolved as now I work 100% online with six and seven figure entrepreneurs to help them really double their energy and focus so they can feel better and make more money in their business.
Scott Ritzheimer
Amazing. Amazing. It's absolutely fascinating. So let's dive in here. And there's 1000 different ways we could go the conversation. But the question I have for you is what would you say today is the most meaningful work that you're doing for your client.
Tanessa Shears
Helping people wake up and not feel so tired. I can't tell you how many entrepreneurs I have spoken to have worked with that are just like, I am so tired all the time. And I my brain doesn't work. And I just feel like I'm not enjoying my life. And it takes me so long. They're battling that To Do List productivity battle, at the end of the day, waking up at 3:30 in the morning to think about so just to give people that gift or even just the awareness that it's an option that like you don't have to feel so tired all the time. And life feels really good when you have more energy. And to provide that solution. Like that's a pretty cool thing.
Scott Ritzheimer
Yeah, I love that. Because I mean, what what entrepreneur out there without working on it isn't exhausted and tight. Right. And and so much so that I think a lot of folks just think that's part of the deal, right? Like that's just part of being an entrepreneur. So there's there's multiple ways that you help folks here. And so kind of walk us through, how should we start working on, you know, ourselves to get ourselves to a place where we have the energy we need, where we have the focus we need what where do you start?
Tanessa Shears
Yeah, well, it's counterintuitive to what we most think most people are like, give me the exercise plan, tell me what to eat, because that's what we see on the surface, right. But what the foundation is, and I think one of the easiest places to start is your sleep because it's free, and you're already doing it, why not make it a bit better. And on top of that, like when we look at the ramifications that sleep has not only on our brain performance, but our energy, our productivity or overwhelmed overall health and even our consistency with working out or eating well, like sleep is the foundation on which every other habit is built. So I just love to like dig into sleep and not in like, I've known I've ever heard people talk about sleep before this is before I became interested in it. And I know it's really easy to be like my sleep is fine. I'm good on six hours, it's great and like tune out. But I cannot tell you what a difference it makes when you understand what happens during sleep. And what happens when you amplify the quality of that sleep because you might be sleeping, but you might not be getting the quality that you need to get your brain to where it needs to be to perform in your business.
Scott Ritzheimer
Yeah. And so that person who's sitting there and they're about to check out, right, but like, maybe she's onto something, how where is it showing up in their life, that if they if they start to solve these sleep problems, they'll see benefits in these other areas.
Tanessa Shears
Yeah, well if you've ever said, I need like two cups of coffee and an hour and a half, two hours to boot up in the morning, sleep might be a good place to start. If you ever say, Oh, my brain is like useless after 2pm, I get this energy crash, I can only do low value tasks. Like might be a good one. If you get to the end of your day, and all you have the energy for is to collapse onto the couch, watch Netflix while also scrolling your phone but you wish you could be doing something different sleep might be a good place to start. Or if you're just find that you're not really like you don't have that creativity. You're problem solving isn't that good? You feel like you're emotionally overwhelmed or that you're go easy to overwhelmed. Like these are all places that to me when I'm hearing somebody say these things. I'm like, I bet we could do a good inventory on their sleep and find some room for improvement.
Scott Ritzheimer
Yeah, it's so true. I'm you know, it's funny being a podcast host because I'm naturally an introvert, right? I need my time to like tend to dial down. And and so being in a role where I'm constantly on right, I found much more than being CEO of my previous company where it was a little bit more internal, a little more control of my schedule. I would I was exhausted at the end of the day and started working with my doctor and we just went aggressively after slavery was like all we talked about multiple times and saw a huge improvement. And you're right, it's night and day difference. And so having done this, I didn't have the benefit of working through a method like yours. But having done kind of the grunt work of making this happen. Anyone list I can say is absolutely a night and day difference. So the question though, is like how do you know like, I'm sleeping, right? Like, I can't really tell, you know, if it was a sport, I can see how fast I'm running. I think most of us, it's just like we have the number of hours we sleep when we fell asleep. And when we wake up how do we know if we're having quality sleep?
Tanessa Shears
Yeah, so on my hand, right now I have a ring. And this ring is called an Oura ring. Oura and it tracks all of my variables throughout the night, my breathing rate, my heart rate, how much time I spend in each deep and dream sleep, which are the two main phases of quality sleep, it tells me so many things about how my brain is recovering from the day before my body's how much engaged in fight or flight or rest and digest I am. So I'm able to consciously make decisions going forward on that day, if this is a day where I can just go to town and get a lot done. Or I need to be proactive in planning a bit more of a breaking. Because I think that's one of those things that it's like, if you took a credit card and you went shopping, but you had no online banking access, you had no idea what your limit was how much you owed, and it was just guessing all the time. So I really think that having a device to look into your sleep is pretty much the equivalent of online banking, for your finances, right. And aura ring is just one of the options. I've used a Fitbit before. There are people that use the whoop band like there are a lot of options out there. But it's seriously your brain is your best asset hands down in your business. And we are looking for the return on investment that you get day after day for your time and energy put into your business, your brain needs to be sharp. Now relative to that these devices are minor investments are what I look at as in your business performance and not just a fun gadget on the side.
Scott Ritzheimer
Well, and that's a that's a really big deal. Especially because we're speaking to entrepreneurs here is this is not just some kind of cool gadget gizmo that we saw on you know, whatever our favorite website is, this is something that we're doing intentionally right to be better at what we do. So sleeps first one, you find a wearable device that fits your needs, start tracking it. There's lots of ways on how to improve that from Tanessa. But I want to go next. So we've got let's say we've got our sleep at least moving in the right direction, right? We're getting more quality sleep throughout the night. What's step number two?
Tanessa Shears
Tip number two is we really need to dig into what we're putting into our bodies. And that looks like food, we hear food and there's so much conversation around If It Fits Your Macros, or is it calories or what is it intuitive eating. But really, what I like to look at is I don't look at food from like the perspective of how we fit in our clothes, I look at it as what it does to your brain and your ability to perform. So I'm actually looking at something called glycemic variability, a fancy term for what's happening with your blood sugar, we all have it. It's not just something that is related to someone who has diabetes, for example, but our blood sugar when it is very stable. And that usually looks like when we're eating a lot of healthy whole foods, vegetables, proteins, like grains like rice, things like that. Our blood sugar stays relatively stable. However, when we go and eat a meal that is very processed. If we're thinking like a giant plate of pasta or you know we're grabbing a hot dog at lunch or a bowl of cereal. That's what I used to do in university. It was the bowl of cereal on the desk all the time. But when we started doing things like that, we actually get these big roller coasters of swings in our blood sugar. What does that basically mean? That means our energy goes up and down. So if you ever have that afternoon energy crash, or you eat breakfast and you're starving two hours later, you need a snack on your desk all the time. or you eat, just in case you might get hungry during a meeting? Because when you get hungry or you just feel terrible, those are all signs that we're just getting blood sugar swings. So what does this mean? Is something actionable? Look at your plate for your next meal, look at it and ask yourself, are these things on my plate? Did they come from the ground? Or did they have a mother? At some point, that's a whole food, the fewer things that you can say, add a whole food or I mean, came from the ground or had a mother sift fewer things that fit that criteria, the more processed they are, and the more likely you are to experience those post meal slumps?
Scott Ritzheimer
Yeah, yeah. And again, you just bring up such an interesting point. Because, you know, like, the conversation is dominated by weight, or fitness, or whatever it is. And so I've never weighed has not been something that I've struggled with, right. And other people just, that's fine. But I struggle with my blood sugar all the time. Right. And so you're 100% right on again, and, and I can feel those. Yeah, I mean, folks listening, like ever been in a meeting with someone who is hangry, right, like, that's what we're talking about. And and if it's you it's a hot it's one of the things about it is I don't notice when I'm that way, right? My wife is usually the one who's like, Hey, you haven't eaten, you know, like, go eat something get out of here. Because it's really hard. Like one of the things, at least for me, and tell me if this is true for for other folks. But my ability to perceive how I'm showing up is one of the first things to decline. Right? And as the boss, that's a big deal. Is that something that's common, or am I just weird? It's probably at least an element of me being weird, but I'd love to hear from you. Is that that will you see?
Tanessa Shears
Yeah, well, when you get really high blood sugar, it's usually followed by a crash, which comes with a mood crash, right. And in addition to that, focus crafts, and if you're sitting somewhere where you're trying to call on your brain power, but you don't have enough fuel for it, because you've crashed. And all you're thinking about is the next thing of course, that's going to be distracting. Honestly, whether you're with a coaching client, or you're in a meeting, you're working with your team, whenever it is like that, like I love this idea that our body is able to dine in on other fuel available as humans, we all have body fat, that is fuel waiting to use until you get to your next meal. So I love this concept of like my body, because I eat whole foods a lot knows how to go and dine in on that fat to keep my energy stable, my brain working. So I don't have to be like grasping around my desk for like some grapes or like a granola bar just to keep me going.
Scott Ritzheimer
Yeah. Fascinating. All right. So step one is not just getting enough sleep, but getting quality sleep. Step two is eating not just the things that are good for your waistline, but good for your brain. Right and and keeping it from the highs and lows, what what would you say is the next step in the process?
Tanessa Shears
Oh, it's looking at your resiliency, there's a lot of conversation that, you know, you should lower your stress, you should eliminate your stress and stress is bad, but we're entrepreneurs, there's stress is not going anywhere, right, you're gonna be triggered by certain things, you're gonna have an in email land in your inbox that you know, fires up your fight or flight system. This is just the nature of the game. So what I like to work on with my clients is allowing space to become resilient. So we've all had that thing happened before that will throw off your whole day you just kind of spin out, you get overwhelmed, you can't really get back in the game. But what if instead of taking a whole day to get over that you could get back into it in an hour? Like we're looking at? How are we able to shrink the amount of time collapse the amount of time that we take to respond to a stressor? And then as a pair to that how can we increase our capacity and our tolerance for stress, so that that same thing doesn't set off that huge fight or flight response. So we do that by actively participating in things that cause us stress. So these are things like exercise, that is actually a stress on the body, it breaks the body down so you can build up stronger, right? You can do that with heat exposure, like saunas, you can do that with cold exposure. We're cold showers are a really big thing right now. But that is something that actually acts as a stressor on your body to build your capacity to tolerate stress. Well, so I think that that is something that's not talked about is like, well, what if we just got more robust as humans?
Scott Ritzheimer
Yeah. Again, I love this because you know, the doctor the other day, and they're like, You seem like you're really stressed. And it's like, first off, I don't even recognize that I'm stressed. Right. And I think a lot of entrepreneurs are that way. The second is like, so what do you like, be less stressed? Okay, here's me, like, I'm less stressed. And, and, you know, I think, you know, for me having a practice in the morning of just kind of quieting everything down is really helpful. But exercise is that for me in a big way, right? When I'm not exercising regularly, I become a terrible human being very quickly. It's just there's a one to one ratio on that. And so one of the things and I've got a question for you on this. One of the challenges without I was I was in a car accident, and it severely limited my ability to get what I would call like good, high stress exercise, right in a good way for years, about four or five years before I was able to get back and so someone out there. You know, there's kind of pushback on all of these I, you know, I'm constantly traveling, so it's hard to get quality sleep or quality food, or I have some kind of an injury makes working out difficult. How do you work around those types of issues?
Tanessa Shears
I think the first thing is to really address the fact that our, the belief system we have around this and that this means that it's all what's the point in doing anything, right? Like I often will have entrepreneurs will be like, I'm in a busy season, right now we're launching a new company, my sleep is going to be less I was like, Great, let's take care of the sleep you are getting them and make that high quality, because what we like to do is just throw it all out and don't do anything. So I think looking at that. And I think the second thing, like especially when you're talking about injuries, it's coming to like, can we create that acceptance around that because that is something we cannot control. But what we can troll is the way we think about it. So if we're gonna think like, this sucks, I can't do what I love. That's when we lead down that path of like, what the heck's the point in this anyway? So I think it's really leaning into that, like, Yeah, this is really frustrating. I'm frustrated right now. And that's okay. Here's what I can do. And that's when you start exploring other things like there, there has been so much research that's been coming out about the effects of sauna and deliberate heat exposure as being a benefit to your cardiovascular system, as if you had gone on a run or a bike ride. So it's really about once you take that acceptance piece, you step back, you ask, what else are my other solutions? There are other solutions out there. And I think that's just where we start to start exploring that.
Scott Ritzheimer
That's awesome. I'm not gonna let my wife listen to that portion of the episode, because she's from Scandinavia, and would love to have a sauna here at the house and I have resisted.
Tanessa Shears
It's on our shopping list. I have a list of biohacking things.
Scott Ritzheimer
This episode might have just gotten very expensive. So the next question that I have for you, though, just kind of putting a bow on this is, how do you know if something's working? Right? So how do you know if the investment in sleeping worth it or food is worth it? Or resiliency? Because entrepreneurs are like they're goal oriented? They're opportunity oriented, folks, right? We've got to kind of see it to go after it. And a lot of this stuff can feel like little gooey, gooey, right? It's like I'm more reserved, how do you know that? So for that person out there who's like, you know, how do I know how much you invest in this? Or if my investment is working? What would you say?
Tanessa Shears
This is why I think what makes the work that I do very unique in that I use data to quantify if things are working. So let's talk about your example of resiliency. So there is a measurement that I look at on the aura ring called your heart rate variability. And basically, it's an indicator of how much your body is sitting in fight or flight, or rest and digest day to day, right. So what I look at is I'm looking at trends over time. So let's say I have a client who is under a lot of work, stress is not exercising very much. So what we'll do is we will start by working on sleep first, because that's the foundation. Now I'm watching a couple of metrics on here I'm looking at is this variable, this heart rate variability? Is it improving over time, this is a good thing. And what I'm looking at is for upward trends in the data, because like we spoke about earlier, it's about return on investment, meaning I want to be directly able to see did that have an impact, because I'm too busy to do all the health habits I've seen on Instagram. So I'm directly testing and the way I like to run experiments with my clients is we're going to commit to this for one to two weeks and watch the data if we see a positive influence, we keep the habit if not, we decide whether it's worth continuing. And that's how I'm always looking at okay, is our bodies resiliency improving? Are we getting longer sleep is the amount of deep sleep we have increasing? So I'm actually using data just like if you were to run a Facebook ad, using data as feedback for what to change next.
Scott Ritzheimer
Yeah, yeah. I love that. I love that. All right. So there's a question I like to ask all my guests, I'm going to ask this of you fascinated to hear what you have to say, What? What is the biggest secret that you wish wasn't a secret at all? What's that one thing that you wish every entrepreneur listening today knew?
Tanessa Shears
Well, I would say sleep, but I'm not going to be so cliche to go there. Because it is sleep. I think it was this mindset shift that I had when I had a coaching session a long time ago. And she said to me, you know, just that, when you realize that your brain and the way you think about things is the problem. It's the best news you'll ever get. Because that means your thinking is the solution. Because as long as you think that's the problem, they're the problem, this thing is the problem, you are completely helpless to create a solution. So my gosh, when I recognize that, like if I have any problem I want to solve and it's really just comes down to how am I thinking about it? If I start there, if the floodgates just open I can create anything, this is my responsibility.
Scott Ritzheimer
Yeah, yeah. Yeah. Internal Locus of Control and and just to encourage anyone who's out there thinking like, you know, man, I wouldn't say this, but am I worth it right? Am I worth that kind of investment? Or is this the right thing for me if your six seven figure leader more more often than not, you're in a stage that called being the star Claire, right. It's that stage where it's like, it's all about how well you execute on the plays. And, and you may not for always be on that stage. But if you are, then the best thing that you can do is invest in yourself. It's not going out in necessarily finding another market or another because nobody can sell your business like you can, nobody can do your business like you can. And so if you can do this relatively simple process and double your ability to focus, your ability to execute yourself, it's going to have a huge, huge return on you, and you are absolutely worth it.
Tanessa Shears
Yeah, well, the other thing to just kind of add on to that is like, if you're in a type of business, where you are your business, that's very much I am the personality brand of my business, I genuinely think that your energy is going to result in people being attracted to you. Nobody wants to work with someone who's tired, who's frustrated, who's exhausted, who's overwhelmed all the time, people can sense that, you know, even if we think we're putting on a face, but like, I want to attract people into my world who are like, I want to do this with her because she's got that energy, right? I want to attract people and pull that in. So I think as much as it's not just it's investing in yourself, it's like, if I show up in my business more vibrant, more energetic, how much easier is it going to be for people to want to be in your world?
Scott Ritzheimer
Absolutely. Absolutely. And it's a great segue into my next and kind of last question for you here. And that is, I'm gonna be take off your coach hat for a second, put on your CEO hat. Let's talk about you and your business. Tell us what's the next stage of growth look like for you as a leader and for your business? And what challenges do you think you'll have to overcome to get there?
Tanessa Shears
Yeah, so it's something I've been negotiating over the last six months, and you know, how you kind of when you see something, and you're wrestling with it, and you can't quite figure it out? I had somebody coached me on this, and they said to us, are you growing just to grow? And I was like, What do you mean, they're like, Well, is there a reason you're growing? Like, where is the season that you get to enjoy that? Right, and I have a one year old and a three year old right now. So our house is full. Got a lot going on. But I'm also like this, like, I want to grow, let's go like I feel like things are moving. So for me, it's having to recognize like, okay, am I gonna push right now just for the sake of pushing? Have I taken a season recently to just like, enjoy all the work that I've been doing, and not have it be about growth, because I really think as entrepreneurs, we get stuck in like one upping our best revenue month, our most clients signed in a month, whatever that might be. And we don't ever actually enjoy it. And I think that's when work creep gets in and all of a sudden, your boundaries are blurred, you're not taking care of your house. You haven't spent quality time with your kids. What what is your spouse doing? We don't even know right, like so. For me, it's always negotiating that like I just came out of a season of growth and then allowing myself to take that season of living and not being a antsy I guess to jump back in right away. That's I love to grow, but like recognizing that I have to enjoy the growth of there's no point in anything.
Scott Ritzheimer
Yeah, so good. growth for growth's sake is one of the fastest ways to burn not necessarily just yourself out, but everyone around you who's picking up the pieces. So yes, fantastic. Fantastic. Thank you for opening up with that. I love it. All right. There are some folks listening that are just like, okay, yes, yes. And yes, like my sleeps terrible. My eating. You know, I've never thought about how the weight is helping my brain and the stress out the wazoo. I need to find a better way. So someone wants to know more about your work and get in touch with you. How can they do that?
Tanessa Shears
Yeah, so my podcast becoming limitless takes a different health optimization hack goes in depth in it in an episode and then how it exactly applies to your business. So if you're really liked, you heard something today and you want more about it. I guarantee I've done an episode on it. Beyond that, I have a PDF. It's a free playbook. It's called 12 ways to biohack your energy. So if a lot of the things we've talked about today are actually in there, it's like my 12 things that I've had the biggest impact with myself, clients and you can get that on my website at tanessashears.com.
Scott Ritzheimer
Got it. Excellent. Good. Check it out toys to biohack your energy tanessashears.com we'll add it to the show notes so you can click on it right there. Tanessa is just a tremendous, tremendous time. Thank you so much for being on I learned so much. And for those of you who are listening you know your time and attention mean the world to us. I'm sure you got a ton out of this episode like I did, and I cannot wait to see you next time. Take care.
Contact Tanessa Shears
Tanessa Shears is a Kinesiologist, Certified Sleep Science Coach, and health consultant who helps entrepreneurs double their energy and focus so they can make more money in their business with her 12 Becoming Limitless Protocols. She works closely with business owners to eliminate brain fog and wake up well rested so they can get more done in less time, maintain consistent, stable energy throughout the day and feel better than they have in years. Tanessa is also the host of The Becoming Limitless Podcast, sharing her expertise on optimizing health and focus for business success.
Want to learn more about Tanessa Shear's work at Tanessa Shears Consulting? Check out her website at https://tanessashears.com/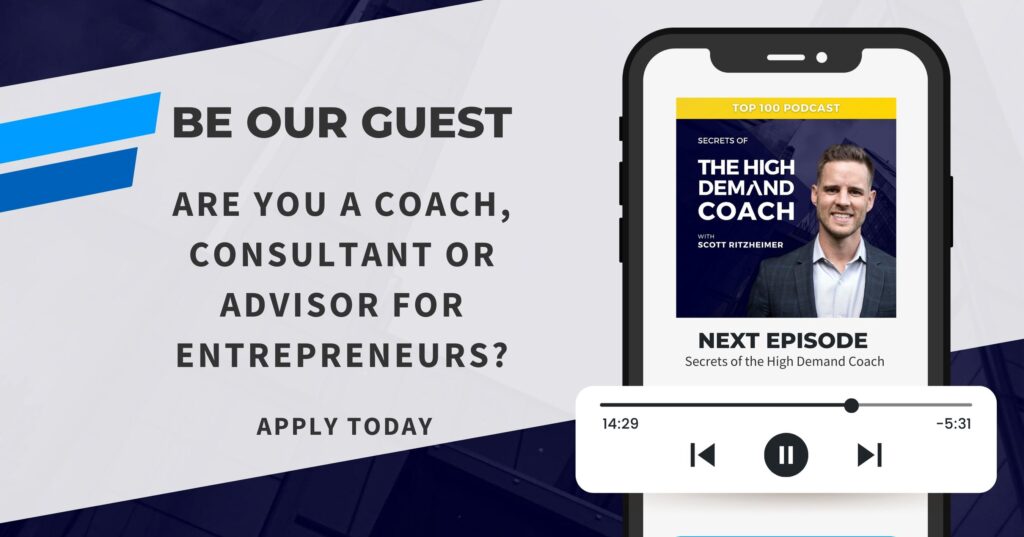 Podcast Booking Status: Open
We are looking for podcast guests, and we want to share your story.
Are you a coach, consultant, or advisor for entrepreneurial organizations? If so, let's do a great show together – and we can promote you to our audience on all our social media channels, website, and email list.

Guest requirements:
As a coach, you should be experiencing some very good momentum AND be grossing $100K or more annually. We'll be talking about how you help your clients achieve extraordinary results.
Consider yourself as equally people and results-oriented in your mission.
High-authority expert management and independent coaches who work with founder-led entrepreneurial organizations of 40 or more employees. We also encourage guests that are operations/strategy and culture consultants, advisors, and leadership coaches to be guests (no specialties in marketing, branding, sales, or IT, please
Please, no new coaches (under 3 years), published authors, non-independent coaches, or non-business coaches/consultants.