In this harmonious episode, Clayton Stenson, Owner of The Unity Guide, shares the lessons he's learned working as a second in command and later coaches visionaries and their #2s to work together in unity.
You'll discover:
– What makes a great second-in-command
– The cost of gray area in your business
– The value of moving toward hard conversations instead of running away
Episode Transcript
Scott Ritzheimer
Hello, hello, and welcome. Welcome once again to the secrets of the high demand coach. And I'm here with yet another high demand coach, and that is Clayton Stenson. He's an innovator in the business coaching space. Now his focus is on helping visionary business owners. And they're second in command, develop strong communication, understand each other, and appreciate and leverage each other's strengths, especially within the EOS or Entrepreneurial Operating System. Now, he helps businesses of all sizes, develop healthy team dynamics and break through the next level. And I'm so excited to have him here. So Clayton, welcome to the show. We've been talking for a long time, and then realized I was like, I gotta have you on the show. So I'm excited to have you here. I'm particularly excited to explore how you help visionaries. And they're second in command. Sometimes we come operators integrators, and so we'll get to all that in a second. But before we go there, I'd love to just hear a little bit about what you were doing before you were coaching, and how that ultimately led you to make the leap into the space.
Clayton Stenson
Yeah, for sure. So before I before I was coaching, I was integrator, second in command of a construction company, we had about 20, staff buddy million revenue. And I, you know, even prior to that I worked actually at a church at a church and I was kind of in a second in command type role there as well. So I had to two experiences working with visionaries, and companies that, as you would call it, were in Whitewater, right where I was, you know, helping to navigate, change and improve systems and bring clarity to those organizations. And I really enjoyed that work. And as time kind of progressed, I realized I wanted to branch out and have my own business, that just gave me a little more freedom to to kind of make my own schedule a little bit and be a little more present with my own children. I have three boys six, four, and two. So yeah, back about three years ago, I decided to branch out and do my own thing.
Scott Ritzheimer
That's fantastic. So tell us a little bit, what would you say is the most important work that you do for your clients right now?
Clayton Stenson
Well, my company name is the unity guide. And I think that is the most important thing that I do is is helping them to get unified. I just find that when I come into a new client situation, I find very often, that there's a lot of gray, there's a lot of gray areas, right? Like there's, you know, you know, you you ask people, you know, kind of what's your job description? They don't know, right? What's your job title? I think it's this, right. And there's so much gray as far as who's supposed to do what, and who reports to who, and all that kind of thing. So quite often, you know, from a fractional, like, sometimes I do fractional integrator work as well. You know, that's, that's probably the main thing that I'm working working on, is, is this really helping to remove the gray and get everybody's clear on what what they're doing? As far as the coaching of the relationship with the vision with the visionary and the integrator? You know, usually, I always I use a lot of marriage analogies, when I'm when I'm coaching visionaries, and integrators, because, you know, my own marriage. So I've been married for 12 and a half years. And I found that we spent way too much of the first 10 years of our marriage, trying to change each other. And what I what I found was, it wasn't until we stopped trying to change each other, that we really started to have a much better marriage a much better relationship. And I find that it's the same with with visionaries and integrators, quite often, they're a little frustrated that because the other person isn't like them. So I'll give you an example. Actually, my my second visionary I worked with, at the construction company, when after I left working there, and he decided he wanted to hire a new integrator, he called me and said, Clayton, I'm really missing. You know, what you were doing? And I've got somebody that I think, could be the integrator. My only concern is Clayton, is he's not visionary enough. And I just started laughing, right. And I said to him, you missing the point, right? Like you and I didn't work well together. Because I was visionary, like you, you and I worked well together. Because I was integrator, I was high on integrator, and I could bring things to the table that you couldn't write, and that's why we work together. Well, so So yeah, I think quite often, there's that element of you have to accept, you know, that you can't do it all yourself. Right and you need other person and then just learning how to, you know, work together well.
Scott Ritzheimer
Sp a coupled points in there that really jumped out at me. One is this idea of unity and you talking about gray areas. And one of the things I've seen in team dynamics is oftentimes we don't go into the gray area because of this kind of desire for unity, oh, if I do that, it's going to be in a really difficult conversation with that person. Or if I do that it's going to step on their toes or if I eat right, so it's interesting that the very thing that you're going in and helping them do is oftentimes preserve for the sake of the very thing you're going into create, right and unity. So why is it that you know, that those difficult conversations of creating clarity even when it's uncomfortable, why is it that that ultimately drives unity?
Clayton Stenson
Yeah, it's a very good point that you raise, because you're, you know, I find. So one of the things that I always say is you need to run towards our conversations, don't put them off, right? Because that's what we tend to do. Right? As we just, you know, I'll do that next week, I'll do that tomorrow, right. But the longer you put it off, the harder it is, the bigger it is in your mind. And then you're probably less likely to do it. And then it might go a year. And then there's all these unintended consequences that happen. And I'm dealing that with one with that with one of my clients. Right now, there's a lot of things that are being unveiled gradually, as I ask questions and meet the team, you know, unreal, I'm seeing wow, like, there's a lot of dysfunction that's been created, because people, somebody, or multiple people didn't have the hard conversation that they need should have had a year and a half ago. So a lot of what I do, like a lot of my coaching is, okay, let's have like, let's get it on the schedule, like right now, right? Like, oh, no, I don't have time. Oh, no, let's make it let's do it tomorrow. Right? Like, we really need to address this, I'll be in the room, I'll help you navigate that conversation. But just use the marriage analogy. One analogy one more time. It's often those hard conversations that build the most intimacy afterwards, right? It's like, when you go there, and you fight like a friend of mine, he called me other days, like, Oh, my wife blew up on the other day. And I said, Oh, it's good. I said, Dude, that's good. I'm glad. He's like, What? What do you mean? I'm like, well, she's an introvert, you're an extrovert. She, she needs that you guys need to have those hard conversations, and she needs to tell you how she feels. And a lot of it's the same. It's the same in in relationships in the business world as well.
Scott Ritzheimer
Yeah. So we're gonna shift gears a little bit and hit another point that that kind of came up as you're talking through it. And that was this idea of, you know, the number two, right? And, you know, different models have different names for them. And but what I'd love to hear from you, it's one thing to recognize, I need some help, you know, that's, I found visionaries tend to come to that conclusion very quickly. What is not so easy to recognize is, who's the right person to do that? So question that I have for you is, what is it that makes a great number two, what should a visionary be looking for?
Clayton Stenson
Hmm. I'll answer that a couple of ways. The first one, I'll say if you're going to promote from within, I think really, two things. Trust. Right. I think the thing the reason why I did so well as the integrator in that first construction roles, because I was the owner of the visionaries pastor, prior to me working with him. So there was a high level of trust, we had about 10 year relationship, I'd worked with him for three years. So he trusted me to the point where he, he gave me the reins, essentially, and stepped away, like he did not he was not very involved with the company more. So I think trust, if you're going to promote from within trust is extremely important. And then they have to have, well, they have to want it right. Like they have to get it and want it, I got promoted. Because I came to him with a list of everything you complain about. Right? And a list of how I would fix it. If I were him. And I got promoted. So I got it as an Eos, right, you get it and I got it, wanted it. And I had the capacity to do it. And he trusted me. Right? So I think if you're promoting from within, you know, it's got to be it's got to be you know, those things. If you're hiring from outside, it's probably similar, except you're gonna need to look for a track record, right? You're gonna have to be able to see you know, has this person done something similar before you know it's a little little different promoting from within is you know, it's going to be you know, cheaper, right? Usually that hire from outside so it's a little a little trickier you know, to there's both sides is a little trickier, right? It's nice to promote from within but it's hard to you know, identify if the person is the right fit culturally on the outside.
Scott Ritzheimer
Yeah, yeah, so good. And I see this happen all the time. You brought it up in your example earlier, but what I've found what what the visionary is, okay, this I need help here, right. We're screwing this up. I need someone I need and fill in the blank. I need someone To help manage all these people, because they're driving me crazy, or help me keep the operations moving, because I just can't tolerate it anymore, or you know that there's something they're trying to get rid of. And then they're looking at it. And I see this happen all the time. It's like, well, what do you need from that person, they go through the list. And it's basically I need them to do everything that I do. And I need them to do all the things that I hate to do, right? Like, they have to be capable of everything that I'm good at, they share all my strengths, none of my weaknesses, and all of these other strengths as well. And so, what are the things turn the question around? What what do what does a great number two not need to do?
Clayton Stenson
Hmm, good question. Was number two not need to do, I would say,typically, a number two is not going to be a salesperson, right? The visionary is often a good salesperson, and big, big, you know, big relationship management type person, I would say the number two doesn't need to necessarily do that. Often. I think the best number twos are the the ones that don't really care, if they have the microphone, you know, if they have, they don't care if they, they really are, you know, the center of attention, they, a lot of them, like to be kind of behind the scenes, you know, make things happen, you know, grease the wheels and get everything kind of firing on all cylinders. So I would say if you're, if you're looking to hire a second in command, or promote one, you know, you might want to check, you know, make sure that you're not looking for them to do that, you're still going to need to have the mic, for example, I facilitated all leadership meetings when I was integrator that first time. But I always said, you know, visionary, I need you to hype the people up, right, like, I need you to come to the quarterly meeting and do the vision casting, you know, and, you know, he was a lot more outgoing, you know, friendly or friendly or kind of, you know, fun guy, you know, so I needed him, you know, to do that. So, every situation can be a little bit different. But those are a couple things that come to mind.
Scott Ritzheimer
Yeah. Yeah. So to extend your your marriage metaphor, if you will. A lot of couples tend to have fights around how they parent or the budget, right, or how they spend money or cleanliness and hygiene, right? Yeah, there's there's some classic fights in a marriage environment. What are some of the classic fights or challenges in? Number one? Number two relationship?
Clayton Stenson
Yeah, I would say, the classic fight, from the visionaries perspective, is I'll do it from both angles, or it's from the visionaries perspective, I think a common frustration they would have is, you know, they're poking holes in everything, every idea that I have, you know, the integrator second in command is is, you know, is shut shut down has has reasons why everything is not going to work. Right. Like they, because they're analytical, right, they're logical, they're thinking through everything. So that can be very frustrating for the for the visionary, but I think they need to learn to embracethat, and trust that if it is a good meet, if it is a good idea, it will survive the gauntlet of that, you know, processing by the visionary, or by the integrator, sorry. And from an integrators perspective, I think the most common thing is, I think they get most frustrated, probably just by visionaries, you know, not following through on things and, you know, not having the meetings that they said they were going to have, or, you know, just kind of that lack of commitment to the to the relationship, I think that would be one of the biggest things and then also letting go, right, like them not trusting the the second command to really run with things. I was pretty blessed in that first opportunity. Where I had so much trust, he just basically gave me the wheel and walked away, but three other businesses that don't, that's not common, right. So there's a lot of there's a lot of, there's a lot of marriage dynamic type stuff happening here. And so I think a relationship coach in some situations is, is really good just to have that second person in the room, or third person in the room to kind of help people see, you know, what, yeah, what's that?
Scott Ritzheimer
Yeah, yeah, so good. All right. So here's a question I like to ask all my guests. Is this. What is the biggest secret that you wish was not a secret at all? Well, what's that one thing that you wish everybody listening today knew?
Clayton Stenson
I think I'll come back to what I said earlier. The gold is in the hard conversations. Right? Run towards them. Because I think people don't realize, like that. That is just, I've seen it time and time again, you're going you know, I've had so many hard conversations with one of my new clients recently, and it's just been it's been amazing. Seeing what we've seen come out of it, and how, you know, we've discovered things that were blind spots for us. We've been able to identify, you know, passions that team members had, that we wouldn't have known otherwise, unless we have that hard conversation. And now, we're just starting to get people kind of slotted in the right spots. And we've just identified who needs to be hired to add to the team. Like it's just been. It's been gold. Like, to be honest, it's been, it's been pretty hard, right to stay in this kind of zone of hard conversations, but it's having some incredible fruit. And I'm like the present.
Scott Ritzheimer
I think one of the things that happens with difficult conversations is it's very difficult for for wrong assumptions to thrive. Right, it's very difficult. And because we walk in, I remember I did this exercise, I think I've even mentioned it on our past episode. But we had this guy coming in, he was doing process design, and it was just this cool exercise. We'd said, Okay, write two columns. What are all the things that you know? And you start writing? Now he's like, Okay, second column, what are all the things that you assume? And it's like, oh, shoot, yeah, it's like scratching out all the things on the no column and realize, like, there are very few things that I actually legitimately know about this situation. And there are a whole lot of assumptions happening. And when you kind of mix that propensity to assume with interpersonal relationships, you can see how it gets very complicated, very messy very quickly. And, and when we, when we hold back those things, just stir and stir and stir in our mind. Yeah, for sure.
Clayton Stenson
And it's, it's scary to have those conversations because it might be my fault. Right? Something might be my fault. And I think I read a great book recently, I'm gonna put a plug in here for a friend of mine, Tim Spiker, he wrote a book called The only leaders worth following and if you've read it, but he talks about how, you know how we need to be inwardly sound, as leaders. And when I, when I read that book, I was just so impacted by it. And I think we have to be secure and settled enough in ourselves and in, in who we are as a person, to be able to go into a conversation that's hard, and accept the fact without getting defensive that I did something wrong. And then you own it. And do something about it.
Scott Ritzheimer
Yeah. Yeah. So true. What is others focused and inwardly sound, I think are
Clayton Stenson
Yes inwardly sound and others focus?
Scott Ritzheimer
Yeah. Yeah, that's fantastic. All right. So again, I'm going to kind of shift gears on us here. And I'd like for you to take your coach hat off for a second and put your CEO hat on, jump into the ring with the rest of us, and tell us what's the next stage of growth look like for you and your business? And what challenges we have to overcome to get there?
Clayton Stenson
Yeah, so in business three years, and I've been learning, you know, non stop a lot of things and constantly out of my comfort zone. And for me the next phase, you know, so just little little business, I'm doing about halftime, I'm doing fractional integrator work, which I, which I really love, I love being in the, in the trenches, and, you know, solving problems. I learned a lot there and have an opportunity to help people, the other half of my business, do the coaching, right? So their relationship coaching, coaching, integrators and visionaries, and long term My goal is to, you know, to be in the, in the coaching world, I just, I feel a call towards that. I experienced what it's like to have an unhealthy visionary, integrator relationship, the first visionary that I worked with, and I just feel this call to solve that problem, and to help people with that. So biggest things I need to do, I just need to figure out sales and marketing, you know, like, I, I can help people, but I need to figure out how do I, how do I get the word out there? And how do I, you know, build, build that presence? And I think I'm well on my way. But that's probably the biggest thing that I'm, I'm working on this next year, next year.
Scott Ritzheimer
Yeah. Yeah. Well, thank you for sharing. Now, I know there's some folks listening that you know, is visionary sitting there thinking like, Oh, I've had so many like this. It's like everything that you're saying is like yep, yep, yep, yep. Yep. So they're just resonating with all of it. And they want to know, what do I do? Right? So how can folks find out more about your work and how you can help?
Clayton Stenson
Yeah, so they can go to my website, which is just theunityguide.com. And, and on there, they can book a call with me, I do a free consultation. I'm all about adding value as much as possible, you know, so I'll jump on a call with them and just chat about their situation, you know, and give some give some advice that might help them and if it's a good fit, I'm not a salesy guy if it's a good fit, we'll We'll we'll talk about maybe working together if not, you know, I'll give them something some other recommendations or books or whatever that will help them.
Scott Ritzheimer
Fantastic. Fantastic. So yes, if you're out there, you're a visionary and you either don't have a number two or you're struggling with your number two, or you're in that number two seat, which is there's not a lot of content out there for number two's, right. There's, there's a lot of stuff written for CEOs, there's a lot of stuff written for leaders in general, but there's very, very little resources out there dedicated specifically to number two. So for those of you who are in that spot, that, you know, that that, you know, first leader who has to be a follower as well, it's just it's a very unique challenge to be in and genuinely saying this, I can't think of anyone better suited to help you navigate those waters than Clayton. And I don't say that lightly. But from what I know of him, just an absolutely profound understanding and a heart just to see you succeed. So, Clayton, thanks so much for being on the show. was just an absolute pleasure having you here. It was brilliant conversation. And for those of you who are listening or watching your time and attention in the absolute world to us, you know that and we're so thankful. I hope you got as much out of this conversation as I did, and I cannot wait to see you next time. Take care.
Contact Clayton Stenson
Clayton Stenson is an innovator in the business coaching space. His focus is on helping visionary business owners and their second in command develop strong communication; and understand, appreciate, and leverage each other's strengths. His targeted program works to improve the adoption, implementation, and execution of the Entrepreneurial Operating System (EOS) within companies. For Years one of his passions has been coaching and mentoring others in his community and church. As Clayton's leadership experience grew, he was introduced to EOS. His appreciation for how EOS clarifies each role within a company and gets everyone unified and rowing in the same direction changed his life – and his career direction – in a way he did not expect. His impact and knowledge now help businesses of all sizes develop healthy team dynamics and break through to the next level.
Want to learn more about Clayton Stenson's work at The Unity Guide? Check out his website at https://theunityguide.com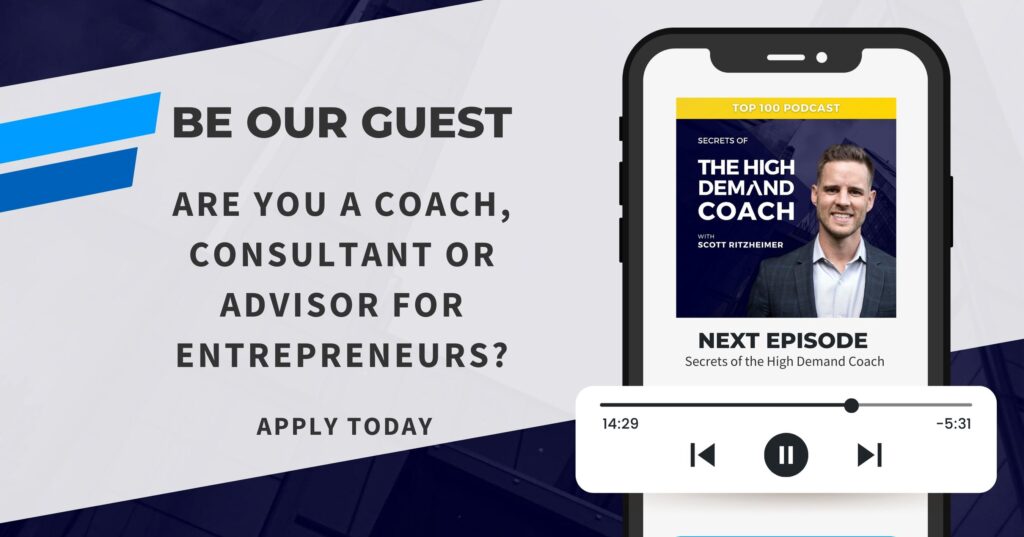 Podcast Booking Status: Open
We are looking for podcast guests, and we want to share your story.
Are you a coach, consultant, or advisor for entrepreneurial organizations? If so, let's do a great show together – and we can promote you to our audience on all our social media channels, website, and email list.

Guest requirements:
As a coach, you should be experiencing some very good momentum AND be grossing $100K or more annually. We'll be talking about how you help your clients achieve extraordinary results.
Consider yourself as equally people and results-oriented in your mission.
High-authority expert management and independent coaches who work with founder-led entrepreneurial organizations of 40 or more employees. We also encourage guests that are operations/strategy and culture consultants, advisors, and leadership coaches to be guests (no specialties in marketing, branding, sales, or IT, please
Please, no new coaches (under 3 years), published authors, non-independent coaches, or non-business coaches/consultants.