In this reasoned episode, Doug Thorpe, Founder, President, and CEO of HeadwayExec LLC, shares how he learned to lead with common sense in every environment from the crossing guard in elementary school to the corporate board room.
You'll discover:
– Why businesses rise and fall
– What to do when find yourself in a leadership position for the first time
– What it means to have a coach
Episode Transcript
Scott Ritzheimer
Hello, everyone. Hello and welcome. Welcome once again to the secrets of the high demand coach podcast and I am here with yet another high demand coach. And that is Doug Thorpe. Doug is the founder and CEO of Headway Exec LLC. And throughout his career, Doug has been consistently a student of effective and inspiring leadership, first as a commissioned army officer, and then as a senior officer of a large and very well managed regional bank. He gained frontline leadership experience later in his career, he left for the private sector, where he helped three different entrepreneurial startups led them sorry, and a regional nonprofit. Now with this wide range of practical experience, what he'll do is he'll help you get clarity on your own ideas for how to grow businesses and lead people. And his passion is helping clients around the globe, identify and embrace opportunities to grow both personally and professionally. Now, he's also the author of a book that I'm very excited to explore with you. We'll get to that in just a moment. But before we get there, Doug, welcome to the show. It's an honor and privilege to have you. And I'd love to just start before we get into kind of the secret sauce, if you will of your world, I'd love to take a step back and look at, you know, tie this all together for us. What were you doing before you made the leap into coaching and consulting? And and why did you ultimately decide to jump in?
Doug Thorpe
Well, great question, Scott. And I, it's a privilege to be here and speak to your audience and your tribe. You know, for me, there's a patchwork quilt of experience and motivation. That all kind of has culminated in what I now do with my executive coaching and business advisory work. But one could argue that part of it started at my passion for leadership started many, many years ago, my wife famously teases me about being captain of my crossing guard. And in elementary school, we still did that back then we sent kids into traffic with signs and badges on their on their bodies to try to stop cars and control the traffic. But I had that opportunity loved it. And from there forward, it just kind of propelled me in leadership opportunities. I was never afraid to take on a challenge if there was a situation that came up at school or extracurricular or otherwise. And parallel with that was a passion I had for the military. I grew up in San Antonio, Texas, and at the time, we had five military bases. You could not throw a rock without hitting somebody that was military related. And even though my family wasn't directly I was a product of that environment, had a passion and set my sights on getting commissioned out of school and going into service in which I did. And of course, being a military officer. It's all about leadership, and, and program execution. But a few years in the military convinced me that I was a little bit too free of spirit for that as a career. And lo and behold, I left the army and went to work for that regional bank, you you mentioned, and at the time, I was still in my 20s, I was still new to the world, so to speak, I had no idea how well our bank was managed and what, how strong our leadership team was there. I just enjoyed being there. It was a great place, I felt highly motivated. And to tell you how successful we were as a bank, we ran off 64 consecutive quarters of earnings growth. Wow, that was 16 years in a row of constant growth and earnings. And yes, we had economic ups and downs and oil crashes and real estate crashes and all things in between. But nonetheless, we knew how to run a bank. When the 20 year mark came up, we'd already been through a couple of mergers, and I was given an opportunity for a so called early retirement. And so at the ripe old age of about 45, I chose to take the money and leave. I did what all good bankers do. I became a consultant and thoroughly enjoyed it. And I did for many years, I did work for biobank clients. But I tell the story that one of the things I took away from all my experience in banking was seeing some independently owned companies rise and fall based on the strength of the founders willingness to make change. And inevitably, that for those companies that did not make it long term, it was inevitably because the founder hit a wall could not find the next step to take to change their own mindset. And the phrase I use now is, if you're a founder, you've got to move from being a founder to being a CEO. And whether you want to do that or not, it's, it's required for your company to be able to grow properly past the second or third stage that you might get to know. That's in a nutshell.
Scott Ritzheimer
It's fascinating it, there's so much in there, I actually, there's a model that I wrote and ues called The Founders Evolution and talk about that exact same thing of, you know, moving through that personal journey of change and adaptation. And, and I think it's so true, because what works in one stage doesn't work in the next. But it doesn't mean that it's not right for that stage, either. Right. So it's just a constantly moving and changing dynamic. I love that you, you were had a position where he could see that at scale, right? See that over all these different organizations? Because it's so true. Now, today, you, again, you're in this coaching consulting world, there are, it seems like he offer about 1000 different services, but what would you say is some of the most important work that you're doing for your clients right now?
Doug Thorpe
Well, the work I do is split it, as is indicated in a lot of my social media. And on my own website, I do have a segment, I still do a lot of work with corporate America, the big global brands, I still go in and work on leadership training and leadership development programs for them, whether it's homegrown, organically created, or whether they truly are asking an outside source to come in and start from scratch and help with those kinds of programs. I enjoy that work, I feel very comfortable there. I've sat in corporate boardrooms, and and participated at that level. So C suite on down through all the different ranks within levels of the organization, I have no trouble operating in that space. But the other big segment of my business is the business advisory and coaching work I do for those owner founders that have in fact scaled their companies up beyond this startup into the takeoff phase where they've actually started to get traction, get market share, and start really getting some momentum. But then inevitably, they hit a wall or or some people call it the plateau, you just flatline at some level and you scratch your head, and you can't ever seem to figure out what it takes to get past that level. And that's where I like to parachute in and help the leadership teams there. Take a look at their business. I've got a formalized framework, I use that again, going all the way back to my banking days, I found it to be very effective, and very helpful. And it does help create a systematized approach to creating new progress.
Scott Ritzheimer
Yeah, yeah. I love that. We call that stage Whitewater, right? Because you're just kind of bouncing around, you know, rapids, and it's like you thought you were in control of the boat. And then you tried to start, you know, rowing in the other direction, and it didn't work. Love that. And, and, you know, a lot of our audience knows about that. They've heard about it. We talked about whitewater a lot. But it's fascinating how often you hear that same reality, right? It's just the truth of the business world is, you know, it's it's not just more of the same. It's not just up into the right. There's adaptations and changes that need to be made individually, right, that founder to CEO transformation and organizationally, and adding the systems and processes that you need to succeed a love that. Now I'd like to drill in on this because you caught my attention with the title of I believe it was your first book, correct me if I'm wrong, but the title was an uncommon, the uncommon commodity, a common sense guide for first time managers. Is that Is that right?
Doug Thorpe
Yes. You got it.
Scott Ritzheimer
Incredible, because and as you were talking, this question came up for me, it was actually two parts, I'm going to ask them one at a time instead of stacking them on you and hoping that you remember or forcing you to remember I should say, the first one is you talked about just how you gravitated toward leadership, right. It's just if that opportunity was there, you're in it, and you found yourself in the middle of leadership time and time again, and what is it that causes some folks to do that to just gravitate toward leadership?
Doug Thorpe
Well, I think there's the age old debate, and it's raged in academic halls for decades. You know, the question is, is leadership born or bred? And I've been a part of programs at the college level where that's been explored. It's been studied, it's been vetted. And for me personally, for all my experience, I've come down on the side of it's both there in the point being there are some people that exhibit what you might call naturally born, leadership talent, and anti gravity do that. I if I may be so bold, I would say I might be one of those Guys, because I just did when, when the gap showed up, I gravitated there, you need a leader, I'm there, I'll do it. And I want to really be clear. And it wasn't because of ego or pride or any kind of narcissism. I just love the idea of organizing a team and making something good to happen. Yeah. That it as the, as one quote says, It wasn't about the role, it was about the goal. And being able to focus on what it was this little team was going going to do, whether it was a nonprofit, or volunteer or school project, or, you know, life mission, whatever. So and the other side of it, is that that back to the original Big Question born or bred, there are those they get thrust into roles of responsibility? But leadership is a foreign subject to them? No clue, no concept, no gravity for it. And can it be taught? I think the question is, or the answer is yes. It definitely can be taught. Can everybody be taught to be a leader? The unequivocal answer is no. There are people that end up in that role that ultimately have no business being there in no manner of coaching or teaching or training is going to help change their personality for being effective. Yeah, some people are just meant to be doers, and contributors, rather than leaders.
Scott Ritzheimer
You set up my next question perfectly. It's almost like we planned this, you know. So that is my question. What happens when you find yourself in that leadership position? And and maybe you haven't gravitated toward leadership? You know, throughout your entire life, but you find yourself there, you got a team of people looking at you? What do you do?
Doug Thorpe
Well, the good news is, that is what creates demand for coaches, and helps us perpetuate our lifestyle and work in doing good and serving others. So the way I usually frame it, it's very, very common practice in modern business, that when an owner or senior looks out at a team and says, We need a new supervisor, we need a new team lead, what do we do, we go pick the best producer, the so called brightest bulb in the string, and we say poof, you're the new team lead. And God loved the individual that got anointed that way and began a management journey with that kind of promotion. Too often, we make that choice, and we put that person in that position, but we don't give them any training. We don't give them any help. We don't give them any preparation. And somehow there's an expectation that that wisdom of individual contribution is going to spill over and let you be a good manager. Well, as most people know, today, I often ask clients, brand new clients this question, do you think there's a difference between management and leadership? And nowadays, most everybody says yes. And the question then is, okay, if you agree, there is what do you think is the difference? And that's where the, the learning begins. And the talk can begin to happen on how to not just be a good manager, but actually start working on becoming a good leader.
Scott Ritzheimer
Yeah, yeah. Well, one of the things that I noticed, it was in the title of your book, it's in the title of your podcast, you've got a great podcast, but you've got this idea, or this theme of common sense, right. So it, which is fascinating, and I would say for some folks who are listening, and you've mentioned academia, which you know, some people in business can be a little allergic to, right. So how do you take you've got this big corporate experience, you've got this kind of gritty entrepreneurial experience, you've got an academic background, how do you take all of that and boil it down to common sense principles that folks can use quickly?
Doug Thorpe
Well, you're right, Scott, that is has become a bit of a mantra for me and my own both personal and business tagline is, let's talk about leadership powered by common sense. I think we are living in an exponentially expanding space, in business and in the world in general of information, technology, data and complexity that we've never had before. And people are swimming in Technical nuances of the work they need to do and the things that are going on. And way too often, I hear leaders that are talking all the technical stuff and you look at their teams and look at their audience they're talking to and the people are glassed over. I mean, there's just this dazed look in their eyes. And there's an old saying, and I keep promising myself, I'm gonna look up who actually said it first. I don't know. But the phrase is a confused mind says no, no. So if you're trying to I know it comes from the sales world, I think it's a sales training tag somewhere along the way. But I think it applies to leadership and business in general, when, if I'm trying to lead a team, and I do nothing but confuse them, they are fundamentally going to say, No, I'm not going there. Because I don't know where there is, I'm not clear on what next is, or more importantly, I'm not clear on what the right next thing should be. So I'm going to choose to do nothing. Because I don't want to do the wrong thing. I'm just gonna do nothing until you clarify for me. So as a leader, the challenge is creating this clarity. And one of the best ways to create clarity is getting common sensical about it. And as famously, we said, in the military, it's we had the KISS principle. Yeah, but simple, simple, stupid. I love that. The more simplicity and clarity you can build, regardless of fulfilling the technical obligations you may have, that's still a given, you've got to do that. But when it's it's down to making task assignments, or giving direction, or turning the ship, you got to be crystal clear about what that is.
Scott Ritzheimer
Yeah. I've found a lot of folks will try and prove their worth by sounding complicated, right? It's the trap that a lot of professionals will fall into you, attorneys, CPAs, coaches, consultants, but what what's the mark of a very intelligent, right? Individual is the ability to take complicated things and make them simple as just a much higher degree of of intelligence than then you're just making complicated things complicated, that doesn't take a whole lot of work. So I love the common sense approach in that respect. It's phenomenal. I want to kind of piggyback on that, and ask you a question that I like to ask all of my guests. And it's this. What's the biggest secret that you wish wasn't a secret at all? You know, what's that one thing that you wish everybody listening today knew?
Doug Thorpe
Well, I know you shared that question with me in the ramp up and I'm, Boy, I've got to fight my own urge to overthink this one and make it simple. I think the probably the biggest secret is anyone that goes into a leadership position, likely struggles with the imposter syndrome. And I think it's, it feels like the dark secret, you'd never want anybody to know that you're, you're now in uncharted water, you're a little uncertain about where you want to go. And I think the big message of of about that is just knowing that it's a common phenomenon. Anybody that's ever assumed new and expanded leadership, positions and responsibilities, has experienced it. Yeah. And you're not alone. You can find mentors, colleagues, coaches, others to talk through it with you, and help do the process of rebuilding that competence and assurance. So you can kind of move past that sense of being an imposter.
Scott Ritzheimer
Yeah. Yeah. It's so true. I can think of so many times without showing up and working with lots of coaches. I mean, it's the same thing in the coaching consulting world, right? A lot of the folks who are helping people to overcome that are having to overcome it themselves, as well, sometimes on a daily basis. So there's, there's a power in in recognizing that what you're facing is not all that unique to you, right? Like this is something that everyone goes through. It doesn't necessarily lessen it, but it does normalize it and helps to recognize, hey, they're there. Other people have been through this, I don't have to do it alone. This is a powerful, powerful concept. I want to switch gears then. And then we'll, I know some folks who are listening and it just everywhere is resonating. They're gonna want to know how to how to find more out about what you do, but before we get there, I'm gonna have you take off your coach, consultant advisor hat. I'm gonna have you put on your CEO hat and talk to us a little bit of about what the next stage of growth looks like for you and your business and what challenges you think you'll have to overcome to get there?
Doug Thorpe
I think the the next growth stage I'm looking at is, it is something I'm actually working on as part of the my strategic plan for this year, I'm actually collaborating with a small group of fellow coaches, and we're putting together more of a team effort to structure and package our offerings that we feel might help. It's It's part along the way of nobody knows everything, it's kind of that it's rooted in that thinking. And if I think I've successfully identified a short, short list of a small group of people I'm excited to possibly be working with and I have worked with them in the past. They're not brand new in that regard. But this idea of building a more cohesive team, when I say that it starts to sound like I'm expanding the firm, and I'm building bringing new partners in and if you want to use that vernacular for it. And that's not a bad analogy, that that is effectively what it looks like. And in fact, just in a couple of days, we're having a strategic planning session, the first of its kind for this group. I've kind of had these one on ones with these guys for a while. And now we've agreed we're going to it's time to come together as a group and just lay the blueprint and see what it looks like.
Scott Ritzheimer
Yeah, that's something that's really exciting to me, because one of the things that's a challenge in the coaching world is you get the people who are overly specialized right are the ones who think that they know everything and can help with everything, and neither is particularly true right now. They both have their places, they're both helpful to some extent, but then you start bringing in multiple people, and every coach has a different opinion on on how it should go, you know, sometimes those opinions are founded, sometimes they're not, but it's like as a as a busy leader, how do you know whose voice to pay attention too. So having a team that's coordinated and specialized is just absolutely the best of both worlds? So I'm excited to to follow that, see how it goes. And and that brings me to my last question, whether it's, you know, a part of this new endeavor, or, you know, just to find out about your books, your podcast, or even the work that you do, how can folks find out more about you and, and your whole world at this point?
Doug Thorpe
Well, I am very prevalent all over social media. But the the best place for resource links, and everything I've gotten packed in is on my primary website simply at dougthorpe.com. And that's Thorpe with an E dougthorpe.com. Got a lot of information there, we got some helpful links and quick clicks and downloads and various things. I'm happy to announce I just recently revised and updated a free download that is kind of an FAQ on what does it mean to have a business coach? It's a pretty comprehensive set of questions and answers about what that might look like. And it's a it's a tool people can use. And I'm of the game, I'll say it this way, at the risk of sounding. I don't know what but feel free to hop over there, grab the download. And if I'm not sure, Coach, I just hope that you find one that does suit you and can help you with expanding and growing your role as leader and business owner.
Scott Ritzheimer
Truly remarkable. Alright, so that's dougthorpe.com. Head on over there, grab that ebook. One of the things that I've found is, I actually did this for a while when I was speaking, I'd go out and ask how many people have have had a coach and talking with lots of entrepreneurs, and nine out of 10 of them would raise their hand which surprised me. And then as I was doing that, I started getting stories of like bad coaching experiences. So I started asking a follow up question, how many of you have had a bad experience with a coach and nine out of 10 of those would go up and, and it's an unfortunate thing. There's lots of reasons why there's no one person who's at fault or anything. But what it fundamentally fundamentally boils down to is one coaches getting better at their profession and to leaders and entrepreneurs understanding what it means to actually have a coach. And so I love that you've taken the time to really lay this out, because it's just a fundamental part of getting the relationship to work is understanding what it's meant to do and what it's not meant to do understanding how to find the right coach and what is for you at any given point in time the wrong coach. So I absolutely would recommend it head on over to dougthorpe.com. And Doug just again, a privilege and honor having you on the show was just a fascinating conversation. And for everyone listening your time and attention mean the world to us. Thank you so much for being here I hope you got as much out of this conversation as I did and I cannot wait to see you next time. Take care.
Contact Doug Thorpe
Throughout his career, Doug has been a student of effective and inspiring leadership. First as Commissioned Army Officer, then as a senior officer of a large and very well managed regional bank, he gained front line leadership experience. Later he left for the private sector where he led three different entrepreneurial start-ups and a regional non-profit. With this wide range of practical experience, he can help you get clarity with your own ideas to grow businesses and lead people. His passion is helping clients around the globe identify and embrace opportunities to grow both personally and professionally.
Want to learn more about Doug Thorpe's work at HeadwayExec LLC? Check out his website at https://dougthorpe.com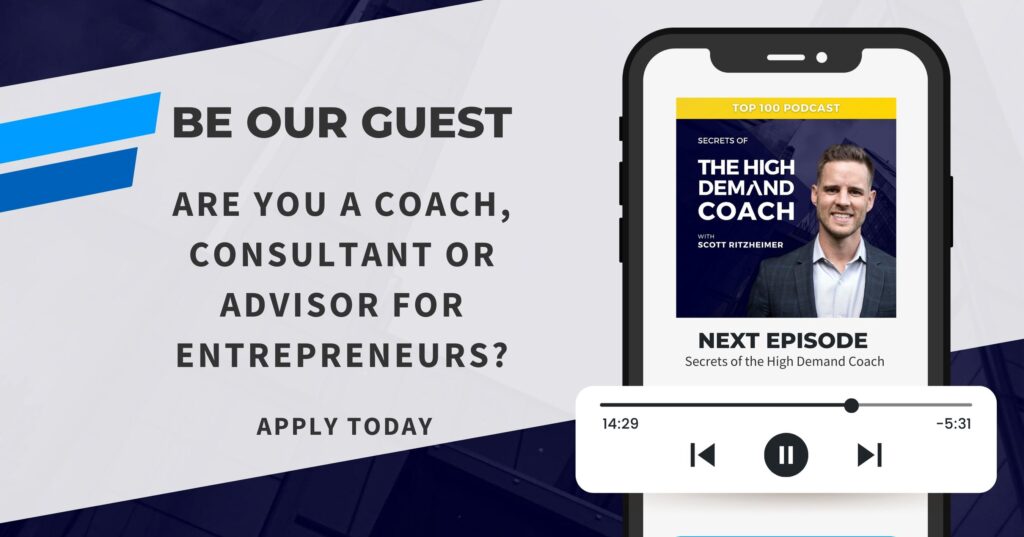 Podcast Booking Status: Open
We are looking for podcast guests, and we want to share your story.
Are you a coach, consultant, or advisor for entrepreneurial organizations? If so, let's do a great show together – and we can promote you to our audience on all our social media channels, website, and email list.

Guest requirements:
As a coach, you should be experiencing some very good momentum AND be grossing $100K or more annually. We'll be talking about how you help your clients achieve extraordinary results.
Consider yourself as equally people and results-oriented in your mission.
High-authority expert management and independent coaches who work with founder-led entrepreneurial organizations of 40 or more employees. We also encourage guests that are operations/strategy and culture consultants, advisors, and leadership coaches to be guests (no specialties in marketing, branding, sales, or IT, please
Please, no new coaches (under 3 years), published authors, non-independent coaches, or non-business coaches/consultants.