In this altruistic episode, Zach Smith, Co-Founder and Chief Activation Officer at Activate 180, shares how he became a trusted adviser in optimizing careers while aligning them with one's personal zeal.
You will discover:
– how to be a trusted leader
– how to align your career with your true passion
– how to create total life fulfillment
Episode Transcript
Scott Ritzheimer
Hello, hello and welcome. Welcome once again to the secrets of the high demand coach podcast and I am here with yet another high demand coach. And that is Zach Smith. Zach has been a trusted voice in mindset career optimization, and leadership coaching for over 10 years. He's coached 1000s of employees across mid market and enterprise level organizations, aligning their careers with their true calling, and passion to create total life fulfillment. Well, Zach, I'm so excited to have you here in just a little bit, I was able to see you know, from your bio, and your, your website, there's just some really exciting stuff happening. And but I know there's a really cool story behind all of that. So I'd actually like to start there. Tell us a little bit about what you were doing before this decade of coaching and ultimately, why you decided to step into the arena and coach.
Zach Smith
Yeah, you got it, Scott, and thanks for having me on. Excited to excited to chat with you today. Yeah, I did, I had a I had a previous life before, before stepping into to coaching and, and ultimately, co founding activate 180 I, I've always been, I've always been hyper driven, I've always been really ambitious. And, you know, that started from me in sports. And then really after sports turned to business. And as I started to go down that path, and I had had a successful career pretty early on became an executive at a young age. And as I continued to, to climb higher and higher, and keep getting promoted, and keep taking on more responsibility, I also started to see behind the scenes, I started to be in the meetings sitting at the tables, where I started to feel the misalignment around who companies say that they want to be and then what actually happens with the culture, what ends up being felt by people that are a part of the team and, and just started to feel out myself started to feel the misalignment. And it started to get stronger and stronger for me. And, you know, I I ultimately I think, you know, I'd like to say that I realized that this ladder that I was climbing ended up realizing that it was on the wrong wall. And so that, for me was actually a pretty difficult time, it was difficult because I knew that I had to reinvent myself, I knew that it was time that I had to find the way to use my gifts that fire that passion that I had, but towards something that I really cared about something that mattered. And so it did send me on a journey and I had to completely walk away from an industry and a career that I knew well, that it was well known in. And when so much of your identity is wrapped into that there's a lot to unwind. There's a lot to unpack there. So I actually just separated myself I took about a year and just went out really looking to understand what is it that brings people fulfillment, what is it that brings people happiness and, and really go outside of the culture that I grew up at grew up in that I had known that I had a shoved down my throat essentially growing up of this is this is what it should be this is the dream. But I truly wanted to discover what my dream was. And so had some incredible experiences traveling, traveling across the world, which is really going deep with with with different cultures around the world wanting to understand what brought people happiness, and I found that, and fulfillment. And I found that it was, you know, it was being able to find some purpose in your life, it was about community. And it was about finding the things that brought you joy. That's what I really thought it was about finding your definition of success and no one else's. And so that for me, sent me on this journey of Oh, I get to use I see I see now I get to use my, my experience and background and understanding business because I've had this this passion and and thirst for learning. And I get to couple that with what I've learned and what I've known throughout my throughout my journey and exploration. And that's where it really came from for me.
Scott Ritzheimer
Yeah, fantastic. So fast forward a little bit. You're you're doing coaching consulting work. Tell us about what would you say today, some of the most important work you're doing for your clients.
Zach Smith
For some of the, for so many of our clients, I think it's it's a few things, Scott, it's about finding. It's about finding alignment. So we so we really take a systemic coaching approach and what we do so it's about working with the individuals inside of an organization. So really dive in with them understanding their their goals, their ambitions, their development needs, the things that might be standing in their way but also looking at the culture as a whole. So also doing organizational development within the culture, helping people develop deeper levels of emotional intelligence understand how to communicate more effectively. So actually give them frameworks for how to deliver feedback, how to take feedback, how to how to resolve conflict, what our relationship is with these things. And as we start to what we say activate the individuals, then we start to see the teams come online and activate and for us it's really about this understanding that you know, Aristotle said it well, right it's the whole is greater than the sum of all the parts. There's this amplification amplification effect when you can get people truly activated and CI for me being activated mean that light turns on In your eyes again, you feel that that passion, that engagement, that excitement, and I think this is one of the things that's really missing for companies right now is how do we engage people fully? How do we how do we get them aligned with what we want to do? And it takes both, it takes the the individual work, and then it takes the work of the team.
Scott Ritzheimer
Right? Right. So I remember, as we were growing our company, we're kind of getting to this place where it's like, you know, there's a lot more people that are, are not in the leadership team than in the leadership team, you know, like, and we can see, okay, that's getting bigger and bigger. And so a lot of what happened, a lot of the success of the organization was down to what was happening outside of the leadership circle. And we started bumping into some of this stuff that you're talking about, you know, the fulfillment of employees, which it's not that it wasn't there beforehand, we just recognized it played a more central role than before, it didn't happen automatically, like it used to is probably a better way of saying it. But I remember it was a little intimidating kind of walking in and saying like, what are your goals? What are your goals? What's your definition of success? Because it's like, well, what happens when those don't align with what we're doing? And how we are? So let's kind of walk through that process, because I'd imagine you're bumping into this with a lot of clients. So if we could, let's start with kind of the leadership perspective, and then work our way toward the, you know, the ground level employees perspective, but what would you say to a leader in that position? They're, they're feeling that they hear what you're saying, okay, it sounds right rings true? No, it's something we need to do. But if I'm honest, it's scary.
Zach Smith
It's such a it's such a great question, Scott. It is scary, right? I think having having the conversations that might stir up something in someone that may cause them to leave, that can feel scary. But the truth is, if we're, if we're not having those conversations that are happening in people's heads, and they're happening behind the scenes, so we're having back channel conversations, we're actually creating disconnection. So we're never going to get full alignment if we're not having this conversation. So So we'd like to, we believe that transparency is the way through that. And so transparency, meaning, we have conversations with companies up front of, hey, as we start to dive in our commitment to you is we're going to do everything we can to really work with people to try and engage them in that work to really see if there is anything that will help them further engage and really feel fulfilled in their work here. But upon that exploration, if that really isn't available. As coaches, it's our responsibility to also not not push any bias, not shift that power dynamic. So so we will let them know that we're here to try and engage them. And if they're really not meant to be here, then it's not serving you as an organization. And there is such thing as good turnover. And let's support them in finding the thing that is going to be best for them. So you can put someone in that seat that will be fully engaged, that will fully aligned with your mission, and will show up big for you every day. And let's do that in a way that's Integris. And that feels clear and transparent. Because I think it's not just about how you treat the people in the company. It's also about how you treat people as they transition out. It's all right, that's what creates that that psychological safety within an organization that cohesion, transparency and trust, we believe that just being honest about, here's what we're here for, here's how we're going to help you as an individual. And here are our goals as an organization. And that that keeps everything clear. And on the surface, we find that to be really effective.
Scott Ritzheimer
That's so good. And yeah, just from my own experience, which you know, pales in comparison to yours. But being that leader in that seat, I remember, you know, on the back end of the process, thinking how scary it was that we didn't know those things ahead of time, right? Like your perspective changes, so much of like, the real scary thing is, you know, like you're saying these back channel conversations are happening, your best people are about to leave, right. And it's just much easier to do all of that in the light. And the other one good turnover than those in today's world. Like that's, that's a huge like, what, but you're so right, and I love kind of the model and the mechanism for doing that. So let's kind of walk this down a little bit. And let's look at, you know, frontline of the organization, if you will, you know, kind of everyone outside of that leadership, inner circle, they have someone like you come in, and they're like, really another one, you know, another thing from leadership, or whatever that may be, what's it look like? Getting, you know, getting them to open up or for the leader saying, Yes, I want that. What are some things that they would need to hear to help their people open up?
Zach Smith
Yeah, so so I'll start with the first part. And that's for those individuals. And so we're really honest, that, hey, this is we're here for you. You know, we're here to support you in unlocking your full potential in conversations that you have are fully confidential that doesn't get shared with anyone. So So we're here to help you in every way that's going to be more supportive. So, so although there are several different elements, so what we're doing is an employee benefit. Yeah, we're really helping them create not just career success, but life success. We look at the whole person so we help them with their relationships. We help them with health and wellness. We help them with finances. We help them make sure that they're having the life experiences that help them stay, you know, stay in alignment with the type of life that they Want to lead so that helps further engage them. So we're really honest about why we're there. And that's really helps you but it does, it takes a conversation or two to build trust. For me as a coach, you know that sometimes you gotta, you got to dive in, and you got to realize, okay, especially for someone that hasn't worked with a coach before, you got to have this realization of, okay, I see what this is, now I see how this can support me. But as soon as a couple of those breakthroughs start to hit, and you start to bring more awareness, that's when people really fully get it. And so we do everything that we possibly can to help them understand the process. And people tend to trust us. And if they trust us, and they trust the process that we're going to bring them through, they see great results. And when this started, when they started seeing the results, then then then then it came on. Yeah. So that's that's kind of how we, with individuals, and then with leaders, saying we we meet with the leaders once a month. And so that's one of the things that we do is we meet with the executive team. And although all the conference, the conversations that we have are always confidential that we have with employees, we do also we're able to identify trends, and we're able to see, hey, here's what we feel is happening within the organization. And so that, that really supports in this this piece that we're talking about the systemic coaching approach. So you know, it's a bit like a triangle, right? We're supporting the individual supporting the organization, but always transparent, always clear. And that's how I think leaders can really understand to of how they can make cultural changes and how they can show up bigger for their people. So that were top down creating the the systems approach to really support people. And then, and then people at this level are so having the important conversations that that they need to have with leaders that they're prioritizing and building the skills that support their leadership as well. Yeah. So I started to see the dividends.
Scott Ritzheimer
Yeah, yeah. So good. What would you say? And one of the things that I love about the the type of work that you guys do, is this being able to see kind of both camps, if you will, right? It's creating a little bit of a false divide, and we're trying to pull that back together, but the two different perspectives, what would you say are some of the biggest gaps between those two perspectives right now, leadership and individuals?
Zach Smith
Leadership and individuals? I, I think the biggest gap is assumptions. I think it's I think it's assumptions. At the end of the day, I think, and this is the biggest gap in any relationship, I think it's, I'm assuming this is happening, or this is where I stand, or this is how this person thinks about me, this is how I'm doing in my job. But not speaking into it, because of the space might might not be there, or the courage might not be there to have that conversation. And then on the leadership side, kind of assuming that people know where they stand and or know where they're at or know whether they're doing a good job. So I think it's the responsibility of a leader to check in as often as possible to let people know where they're at, to give them really, really honest and actionable feedback, whether that's reinforcement to help amplify, actually believe what you appreciate appreciates in people and, but also the the opportunities and real examples of how they can, how they can develop in those areas and where they stand. And I think that creates comfort, it creates direction, and it creates a challenge for employees. So I think that it's something that is missing, that's a big opportunity. That also is what I think helps, or it ends up causing gaps as well with, you know, with with a leader, delegating work to an employee, not understanding how much they have going on, you know, just seen from their perspective. So I think it's, it's assumptions and same with the employee, right, not not being willing, or not having the courage or the space, to have the tough conversation if they're feeling a certain way, when you can create that synergy, right. And, you know, I mentioned this before, but that that psychological safety to take interpersonal risk, without without fear of retribution, or of hurting your credibility, or really creating that two way communication. That is such a strong foundation for everything else to flourish. And that's one of the biggest gaps that we see in that some we really work on with people is emotional awareness, and then taking that awareness and know how to communicate it.
Scott Ritzheimer
Yeah. Yeah, that's so good. I went through this exercise with another coach once who was helping me in a team out and he said, I want you to make two lists, I want you to make a list of the things that you know, and then I was like, okay, and you start writing down, and then he's like, and I also want you to make a list of the things that you assume it's a co shooting, scratch, move that over scratching that over, it's fascinating, if you don't really look at it, it's fascinating how much of what you know, you really assume? And so, yeah, it's just such a great point. And, and, and I think for for both groups to recognize that's happening at scale, right. It's happening both ways. And there's so much left unsaid and unspoken, that you just get a couple of things out there creates clarity, and it's a whole different environment.
Zach Smith
That's such a great exercise. Scott, I love that and I think what what what that exercise does, but also I think, what are what we're doing as coaches when we're evoking awareness or asking questions, we're creating movement, right, we're creating the opportunity to shift to a different lens to to see something a little bit differently, which can then spark an idea and then we Then we pull on the thread of that idea and see what's really there, see what's real, see what's not. So I love that very simple exercise. But what I, you know, another one that I've heard that I really like is, here's what's happening. Here's the meaning I'm assigning to it really simple. Just getting getting in those patterns so that the pattern recognition, I think is so big.
Scott Ritzheimer
Yeah. Yeah, that's so true. So I could imagine that some folks could misinterpret needing you and your team as as a failure of leadership, like we should be able to, you know, Coach our people to mentor people to do what's the advantage of having someone from the outside come in, facilitate this kind of conversation and dialogue?
Zach Smith
Another another great question, Scott. Because we do. Yeah, we have had that not as actually as much as I would think have that come up. But on occasion, someone will bring that up, or this hesitancy of well, should our leaders be able to do this. And, and the truth is, what our coaches do is our coaches all have leadership background, so they know the dynamics of, of the business that they're working in. But they also have spent time going really down really far down the rabbit hole of how to unlock people how to how to ask the right questions, how to coach how to empower. And so leaders have a lot on their plate already. And so they need to often focus on on strategy on check ins, but having that third party to be able to communicate with to be really honest about what's happening. So they can step outside of the situation is so valuable. And as we're doing that, it's actually strengthening not only that individual, but the leader. So everyone's developing together. And it's devoted time to growth and development. And so, you know, the way that a an individual leader is specializing in certain parts of their job, a coach is specializing in how do I support this people, but this person being the best version of themselves, that's not, that's not always the leader, specialty, a leader specialty is a little bit different. So so this provides consistent constant growth and development conversations as well as accountability toward it. So that's what we find is how it can be really helpful. Yeah.
Scott Ritzheimer
And outside, what does that look like for you know, healthy, thriving organization outside of, you know, kind of the formal assessment process? Because so sometimes you can just say, Well, we do that right, once a year. Or maybe we're very, very nice, once a quarter. So what does that look like as as kind of a daily or weekly habit or ritual for a leader that cares and wants to bring out the best in their people?
Zach Smith
Yeah, I think I think it's a few different things. Scott, number one, I think it's it's just consistently checking in, especially in the hybrid environment that we're in right now. Again, going back to the assumptions that we can make, it's the check in of, Hey, how are you doing? Hey, where are we at, on the things that we discussed? Right, so So the check in, but also stay really consistent. And being reliable. As a leader, I think those are really important as a part of developing people. And, and not getting caught up in this, this, you know, the pattern of, we're only checking in on business, checking in under people for real, like the world is changing. People have a lot of things going on behind the scenes. And if you show that you care about them, and you check in, we truly believe if you take care of your people, they show up and they take care of your business in a really big way. So I think that like foundationally is really big. And then and then having having goals we really like OKRs. And that's what our coaches use so, so really understanding what people's objectives are, and then what are the key results? And that way we can really know, okay, are we progressing toward this? And if we don't hit it, it doesn't mean that there's a lot you reprimanding, but it's instead Okay, well, why didn't we get there? What are we learning? Right? So just constantly being in this place of, of learning and growing and developing? And I think, for companies that can get in that headspace of, it's okay, it's okay to fail. It's okay to make mistakes. But let's learn from them. Right? I remember I don't I don't know if you've ever heard the story of Thomas Edison. And when he when he created the light bulb, but when they failed that that I mentioned 10,000 times. And when they asked them how we could possibly fail 10,000 times trying to create something he said, I didn't fail 10,000 times this was simply an invention that had 10,000 steps to it. And so it's just that perspective shift of, we're here to create something great. We're here to do it together. And let's support each other and figuring out what that means by making constant iterations, constant adjustments based off of the feedback that we get that neutral feedback. Let's use it.
Scott Ritzheimer
Yeah, that's so good. All right. So a question and I love to ask this from all my guests. But what would you say is the biggest secret that you wish wasn't a secret at all? What's that one thing that you wish everybody listening out there knew.
Zach Smith
I like to speak from personal experience Scott. For me, the biggest realization that I made in my life is that fulfillment comes from service. It's not about me. That's not always the the message that we hear Um, you know, it's a lot about accumulation, and about just continuing to, to consume and earn and do more. And that's all fine. I'm all for abundance, I believe that people should be rewarded, but for the work that they do, but I think ultimately what I found is true fulfillment is about who do you serve? What do you do? Why do you do it? And I think I think a lot of coaches know this, because they've gotten into this space, it's not always the easiest, easiest path, but it's one of service, it's one of being able to support people. But going into organizations and working with individual people, you'll ultimately I think that's a lot of what activation is about is about being the best version of yourself so that you can then let go of your attachment to having to prove yourself so that you can serve others and I love the fact that they that we are biologically and psychologically wired to feel that way when we support other people. And I think that once people realize that, it drops a lot of weight, they have to carry around this this idea of, of having it just will never be enough if you're if you're trying to reach something that's only about you. So that for me is that passion, start for you purposes about other people. So figure out, figure out what you're doing, why you're doing it, and who it serves. And yeah, it opens up doors.
Scott Ritzheimer
Wow so good. All right. So what I'd like to do here and just a second, we'll figure out how folks can get in touch with you. Because I know that people are listening to this. And just like yes, we need more. But before we get there, I'd like for you to take off your your kind of consultant, CEO advisor hat, but on your I'm sorry, you're put on your CEO hat, your your your leader founder hat and talk to us a little bit about what the next stage of growth looks like for you and Activate 180?
Zach Smith
So next stage of growth for us, Scott, we, this is a big scale year for us. We're working with some incredible partners. So we've got some incredible organizations that we're that we're working with and growing with. We've been fortunate that a lot of companies that we do good work with also make a lot of great referrals for us. And so we really broadening out. We're creating a lot of new partnerships. So this year, it's really about continuing to take everything that we have, from a process standpoint, from our coach community who we value so much, there's nothing more important than the coaches that we have on their team. They're incredible. And it's continuing to expand that out while maintaining and holding on to our culture and the foundation of everything that we've done. So that's what we're taking on. And that's where we're going next. What I love about our internal team at activate, i i Actually sometimes can't believe how great of a team we have i but it astounds me how, yeah, that probably that same level of passion that you can hear from me and that, that, that mission driven mentality, but also the fun that we have, the whole team feels that the whole team embodies it. So it's about how do we continue to hold that culture as we grow. So that's what we're really focused on. We've got some really exciting new companies that we're that we're working with, that are incredibly progressive, that understand what we do, how we can help them. So it's really just about continuing to expand this offering. So we can support more teams and in creating great products, providing great services. And the great thing about the companies that we work with this, they're there to make it. So we get to support with that, which is the best thing in the world to me.
Scott Ritzheimer
Amazing amazing. Alright, so those listening who want to who just have to find out more who want to, you know, connect with you find out more about the work that you guys do, what's the best way for them to do that?
Zach Smith
Yeah, so a couple of different ways. Number one, you can you can find us on our website, activate180.com for any coaches too, that are looking to partner with an organization and not just have their own sole practice, we work with coaches that do a bit of both come back to us see if you know see if it might be in alignment to join our community. So um, there's a an opportunity to, to connect with us on the site, but also just check out what we do. And take a look at that. You can also you can also reach me through Instagram is probably the social media platform that I that I'm on the most or LinkedIn. So on Instagram, just Zach underscore Ivan underscore Smith and then on LinkedIn is Zach Smith activate 180 would love to connect with all of you. But thank you for the time and for their most most precious commodity. So thank you Scott for taking the time and initiating this with me but also just for anyone listening. I appreciate you coming on. I hope this planted some seeds and inspired some ideas for us to keep growing with.
Scott Ritzheimer
Absolutely I couldn't agree more. Zach thanks so much for coming on and sharing your wisdom and advice with us. So appreciate it and everyone listening you know I can only second what Zach said your time and attention mean the world to us. Thank you so much for spending this time with us. I hope it was as impactful for you as it was for me and I cannot wait to see you next time. Take care
Contact Zach Smith
Zach has been a trusted voice in mindset, career optimization, and leadership coaching for over 10 years. He has coached thousands of employees across mid-market and enterprise-level organizations, aligning their careers with true calling and passion to create total life fulfillment.
Want to learn more about Zach's work at Activate 180? Check out his website at https://activate180.com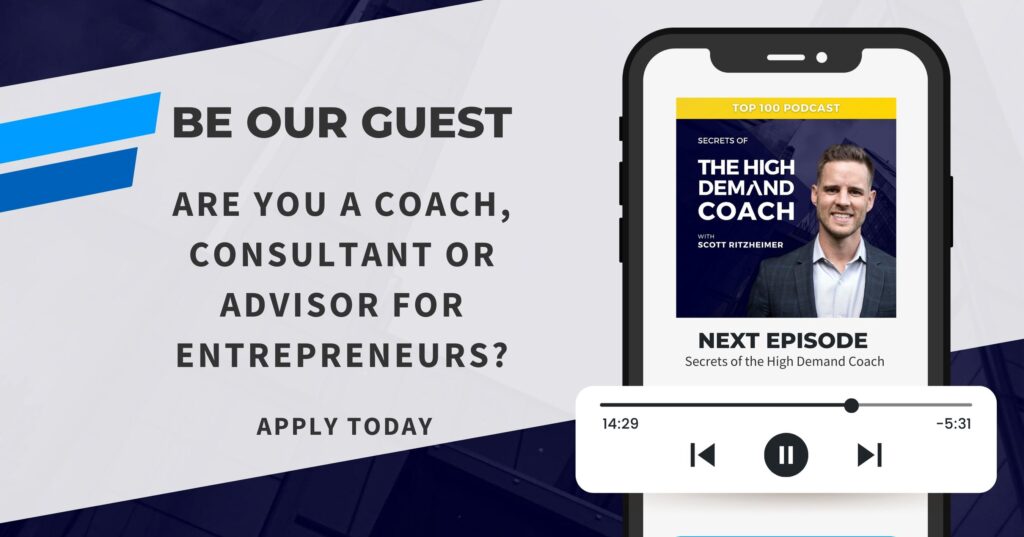 Podcast Booking Status: Open
We are looking for podcast guests, and we want to share your story.
Are you a coach, consultant, or advisor for entrepreneurial organizations? If so, let's do a great show together – and we can promote you to our audience on all our social media channels, website, and email list.

Guest requirements:
As a coach, you should be experiencing some very good momentum AND be grossing $100K or more annually. We'll be talking about how you help your clients achieve extraordinary results.
Consider yourself as equally people and results-oriented in your mission.
High-authority expert management and independent coaches who work with founder-led entrepreneurial organizations of 40 or more employees. We also encourage guests that are operations/strategy and culture consultants, advisors, and leadership coaches to be guests (no specialties in marketing, branding, sales, or IT, please
Please, no new coaches (under 3 years), published authors, non-independent coaches, or non-business coaches/consultants.