In this insightful episode, Chad Willardson, Founder and President of Pacific Capital, shares how he helps 8 and 9 figure entrepreneurs enjoy increased lifestyle and financial freedom by removing their stress about money, increasing their cash flow and freeing up a ton of their time.
You will discover:
– Difference between an outside wealth management and a your internal CFO
– How and when you should think about an exit
– How you could save millions in taxes by using the right strategies
Episode Transcript
Scott Ritzheimer
Hello, hello and welcome. Welcome once again to the secrets of the high demand coach podcast. And I'm here with yet another high demand coach, and that is Chad Willardson. And he's the founder and president of Pacific Capital, a fiduciary wealth advisory firm serving High Net Worth entrepreneurs and families. Alongside being one of the top melt wealth management experts in the country. Chad is also the co founder of gravy stack, a banking app for kids and teens. And he's the best selling author of smart not spoiled. And he's the co host of the smart money parenting show a number two podcast on Apple Worldwide for parenting kids and family. He loves being a brainstorming partner for his clients and a financial and person helping them in their financial and personal decisions. Well, Chad, I'm so excited to have you on I think this space of kind of wealth management, especially intergenerational wealth management is just a massive question mark for successful business owners. They got to that stage not by knowing everything about wealth and managing all of it. But they did it by growing a business and doing it great. And now there's this whole new set of problems they didn't even know existed. So I can't wait to dive into that. I've got some questions for you. But before we get there, I'd love to hear just a little bit of your story. What were you doing before starting Pacific Capital? And how did that lead you to make the leap?
Chad Willardson
Well, I while I was in college, studying economics, I actually did an internship for Wasatch funds, which was a mutual fund company, they manage about $10 billion. And my cousin was actually a small cap portfolio manager there, he had a lot of success. And I was trying to just find what industry made sense for me. And he offered me to kind of shadow him a little bit. And so I got to listen on some conference calls where he was talking to founders and CEOs of potential companies to invest in for his clients. And I got to do some stock analysis with him. And it just really got me excited about the industry. But I don't think I was necessarily fit to be an analyst. And so I wanted to work more directly with the people. And when there was a job fair that came by our college, my senior year, I interviewed and got hired on at Merrill Lynch Wealth Management. And so here in Southern California started in the training program, spent almost nine years at Merrill Edge, and went through the Great Recession, where the big brokerages got taken over by the banks and decided that it wasn't the place for me long term, I didn't feel like this was where the high net worth entrepreneur space would really be really attracted to. I felt like being a fiduciary and having some independence and becoming an entrepreneur was more of a fit. So after my nearly nine years at Merrill Lynch, I left in 2011, to start with some capital. And that's how that's how Pacific Capital was born.
Scott Ritzheimer
Wow. Wow. Fantastic. So open up the door for us a little bit. We'll zoom forward to now what would you say some of the most important work you and your firm are doing for your clients?
Chad Willardson
A lot of the work that we do for clients, well, we really see ourselves in the client CEUs and as a fiduciary family office, so we work with entrepreneurs with at least 10 million to invest, wasn't always like that, or minimum used to be $1 million. For new clients. It's now 10. So we're doing a lot more than just managing investments and placing insurance. Chatterjee so we're, we're assisting and coordinating estate planning. We are diving into the taxes and the payroll and the business financials that these clients are are doing. We're helping even book vacations for some of our top clients like there are a lot of concierge services. This just this morning, one of our top financial planning directors was flew back east and had a meeting with the estate planning attorney and was also helping our client hire a CFO for his firm. So going through the interview process there. So I'd like to think that we touch everything that involves financial decisions for the entrepreneurial families that we work for.
Scott Ritzheimer
Well, I love that you brought that up, because my next question was going to be How's that different from a CFO? So you've got folks who are out there that they say I got a great CFO, you know, our business is in great shape. What's the difference between the CFO and the work that you guys do?
Chad Willardson
Let's say that we do a lot of things that are outside with an objective eye. CFO was on payroll working in a contract typically is inside the company, but we're looking at things from a much higher view. We're also looking at things that are going to affect the next generation are we're looking at protections in case of death to disability divorce, we're looking at Exit Planning for the business. A lot of these areas in the investment world that are not part of on the CFOs role, role sheet per se. So you know client gets an opportunity to invest in a private deal. We're going to look through the private placement documents we're going to sit with the company offering the deal, we're going to look through the deck We're gonna make decisions and assess risk based on what our clients are looking for. So we really become that, that like all encompassing family office that the clients are pointing to whenever they have big decisions to make.
Scott Ritzheimer
That's, that's awesome. And so you're kind of hitting this from a number of different lenses. But I'm wondering if you could just dive in for us? What are some of the unique challenges because you work with founders and business owners, that's your particular kind of space for wealth management, what are some of the unique challenges that they're facing as business owners?
Chad Willardson
They're in demand, their attention, their focus is in demand, their time is in demand. So it's, it's a lot of sorting out what they can say no to what they can say yes to, they're asked to speak a lot, they're asked to invest in something new every single week. That's a specific challenge. I think, people with 500,000 to a couple million dollars, they don't necessarily have that opportunity to constantly be pitched deals or offered investments or partnerships. So that's something that we work a lot with our clients for, let's say tax planning is another one. So when you're earning between 5 million and 20 million a year in your AGI, and there's a lot of different businesses and investments in K ones, there's a lot of complexity. So we ensure that your tax team is really up to speed on what's happening. And we're communicating with him constantly about ways we can proactively plan to help save our clients money.
Scott Ritzheimer
Yeah. And what would you say? Kind of related to that? What are some of the biggest mistakes that founders and business owners are making with their wealth?
Chad Willardson
I think saying yes to too many opportunities, or maybe having a an imbalanced approach to liquid versus illiquid investments, some people get really excited about all the different ideas, and I've seen them over fund into private investments and have that go bad and they don't have access to liquidity. So I think maintaining a long term perspective is something that's important. A lot of times when you're investing in your own business, you have more control on the decision making. So when you're investing in public markets, or private investments you don't have you don't have a seat on the board, you don't really have a direct thumb on the pulse of what's happening. But you have to be patient.
Scott Ritzheimer
Yeah, yeah, a whole new world. So on your website, I noticed something that I thought was just super, super helpful. But you talk about this progression of wealth advisory, I was wondering if you could kind of break those stages tell us what their stages are, kind of break down? What are the big wins for your team in each of those stages?
Chad Willardson
Yeah, I'm gonna have to look it up. While he said that, because I looked at our website, and I think the let me pull it up here on Pacific capital.com, I'll give you a little plug there. There it is. So broker broker does trading and execution that's pretty simple. There's a lot of brokers out there that work for a broker dealer, and they're simply just taking orders. So some people want to make their own investment decisions. They just needed a broker to execute the trades for them. And that's all they want. Investment Managers are doing more, that's the face to doing more strategic asset allocation. They're helping decide on what goes in your portfolio, and they're making the trades for you. wealth manager, which I think is probably the most common, it's what people might call themselves, a financial advisor, a wealth advisor, a CFP. That's financial planning that might touch things on estate planning, insurance planning, talk about education, planning, and five to nine accounts, maybe. And then also building out a portfolio and making the trades. Finally, for a family office. To me, that's, that's much more significant. So that's a lifestyle advisory, that's health advisory, that's family council, that's philanthropy management. So we set up a lot of donor advised funds, we've set up 501, C threes for family foundations for our clients, everything from planning vacations, to discussing how to finance private, you know, buying a private plane or doing things like that, and have a higher level of need. So once again, I don't think that's necessary for most people. Most people don't need that level of service. But if you've got at least $10 million to invest, you might have some of these more complex issues that need a much higher level of sophistication than just a broker or an investment manager.
Scott Ritzheimer
Yeah. And how do you know when it's time to progress through each of those stages? So for example, how do you know when it's time to like getting a broker is a little straightforward because you need them to make the investment but when is it time to get an investment manager? When's it time to get a wealth manager or hire a family office?
Chad Willardson
I think most people Are are in need of a wealth manager when they're looking for a more holistic plan, they're looking for advice on more than just the investment side. They actually want to bring everything together and have a more strategic plan to the whole process of what do I do with my money. And what happens if something bad happens, and I'm not ready. family office, like I said, typically, to have your own family office, you've got at least 200 million, so maybe a billion dollars, and you've just got to set up in house, we're servicing that 10 million to $200 million client that maybe doesn't have their own family office, but we can be that outsource family office for them. So if you're under 10 million, I don't think you really need that level. Unless you're about to come into liquidity from a business exit or something significant like that.
Scott Ritzheimer
Yeah. And that this is a great segue into my next question, which is that liquidity event because it's a big one for business owners, a lot of business owners have a significant amount of their wealth still in the equity of their business? What What Should folks be thinking about in terms of an exit? And when should they be thinking about that?
Chad Willardson
Good question, I think it's important along the way to have money working for you outside of the business, lots of things can happen that maybe doesn't, maybe disrupts your plan for an exit or a big sale. So I think you should constantly be looking at your own personal financial life, and making sure that you're planting seeds of investments along the way. And not just putting everything into the business. I've seen a lot of things go sideways, when people expected something great to happen in the economy changed or law changed, or their business changed. And that never happened. And they had nothing else to show for all those years of growth. So we help the clients sell their business, he bought the business for 50 million. And then within six years, he had his partner sold it for 800 million. And we were involved in that sale process the whole way, very significant deal sold to a public company. So there were a lot of was a big learning curve for our team, because we got to sit on all these meetings and discuss strategy and structure to the deal. But I do think it's very important to involve very highly qualified professionals, tax legal, fiduciary, people who are representing you personally, when you're thinking about potentially selling your business, there's a lot that goes into it.
Scott Ritzheimer
I think one of the things that's interesting about what you do is for a lot of founders, you know, the their business is kind of their, their nth child, right. It's their baby. And, and in many ways, it's a part of them. And what I think is so interesting, you keep bringing up this difference between kind of inside outside or the business and you personally, how do you help folks to kind of separate themselves from their business and look at the bigger picture of their well.
Chad Willardson
I think asking them to, to basically think about who's working for them, you know, do you own the business? Or does the business own you? Are you working for your money? Or is your money working for you like what is out there besides your business that's producing for you? We also talk a lot about the family wealth education. So if if you're a business owner, that's working 90 to 100 hours a week, just truly trying to grow something for a sale? What if something happened to you? You know, where does that leave the business? Where does that leave your family? So there's a lot of planning that goes into it. And I think that is developed with trust and with the relationship with each business owner client, where they see they were coming from experience. Yeah, you know, we've had more than one client, so a business. So we've gone through this process many times.
Scott Ritzheimer
Yeah. Yeah. So a couple more questions for you here. One is, what would you say is the biggest secret that you wish wasn't a secret at all? What's that one thing you wish everybody listening or watching today knew?
Chad Willardson
To the financial advisory industry? Or just in general?
Scott Ritzheimer
For founders and entrepreneurs thatare listening. Yeah.
Chad Willardson
Yeah, founders and entrepreneurs. I think, the one thing that I think is not a secret is that there's a lot of great opportunities for strategic tax planning that most of us don't get exposed to, you know, we hear about we hear about certain things out there, but we we really end up settling for very mediocre professional advice and we you pay more taxes than we need to I think there's there's a lot to be said for proactive planning versus reactive tax preparation.
Scott Ritzheimer
Yeah, yeah. Yeah, that's so true. And so I'm gonna have you shift gears for a moment. Yeah, Olivia ever had, I'm gonna have you take off your advisor hat for a moment, if you will put on your CEO hat and kind of get down in the ring with the rest of us entrepreneurs, what's the next stage of growth look like for you as a leader and what challenges we have to overcome to get there?
Chad Willardson
The next stage of growth is coinciding with our big building purchase, so I bought a bill Looking for a new headquarters and we are going through a very significant, probably six month remodel. And it's reformatting, making it a very collaborative space. I think that the growth of our team is is really in line with the growth of our people. So the more of the leaders have grown in our firm, the more autonomy they've had, the more responsibilities they've had, the more we've grown. And so I think the next phase is really setting that place up to be one of the top places to work for, you know, work at in Southern California. And that's something that's exciting. For me, it's just creating that environment. We're already building a great culture, we've added probably four or five new people in the last six months that are just all stars from all different walks of life. And I'm just excited about developing the talent and the human capital, the leadership and the education of my team.
Scott Ritzheimer
Yeah. Yeah. Remarkable. Well, Chad, thank you so much for coming on. Before I let you go, I got one more question. That is how can folks find more out about you? You mentioned the website is pacificcapital.com. And tell us is that the best place for folks to get in touch with you?
Chad Willardson
Yeah, me personally. It's chadwillardson.com. Or on LinkedIn. I'm very active on LinkedIn. So either of those places are great. And I look forward to being in touch with anyone who's enjoyed the show.
Scott Ritzheimer
Fantastic. Chad's got multiple books, some bestsellers in there and just a whole wealth of resource available, I highly recommend that you look them up and we'll put the links in the show notes here below. Chad, thank you so much for being on the show. It's an absolute delight. And for those of you watching, you're listening, you know your time and attention means the world to us. I hope you got as much out of this conversation as I know I did, and I cannot wait to see you next time. Take care.
Contact Chad Willardson
Chad Willardson is the Founder and President of Pacific Capital, a fiduciary wealth advisory firm serving high-net-worth entrepreneurs and families. Alongside being one of the top wealth management experts in the country, Willardson is also the Co-Founder of GravyStack, a banking app for kids and teens, the Best-Selling Author of "Smart, Not Spoiled," and Co-Host of "The Smart Money Parenting Show" #2 Podcast on Apple worldwide for Parenting, Kids & Family. He loves being a brainstorming partner for his client's business, financial, and personal decisions.
Want to learn more about Chad Willardson's work at Pacific Capital? Check out his company website at https://pacificcapital.com/ and his personal website at https://www.chadwillardson.com/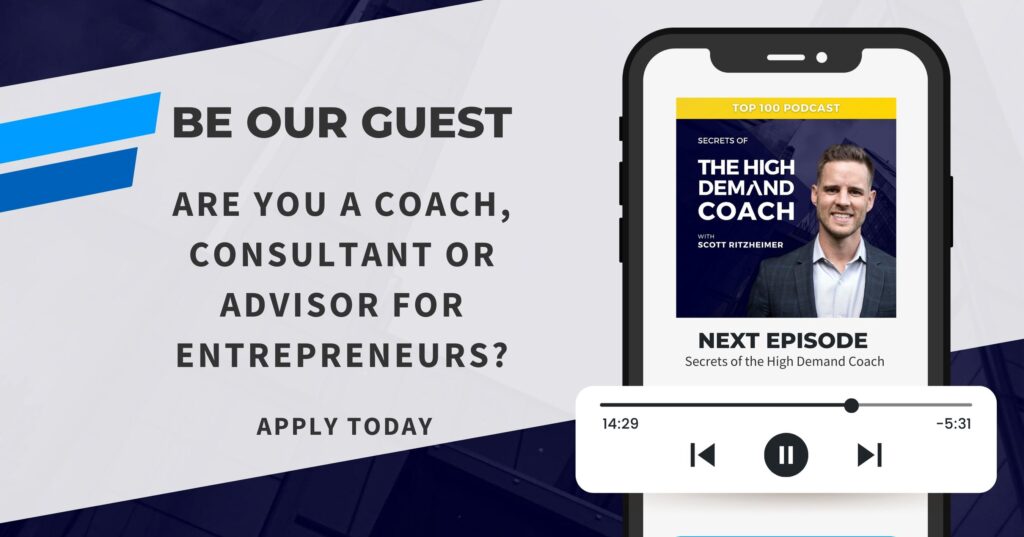 Podcast Booking Status: Open
We are looking for podcast guests, and we want to share your story.
Are you a coach, consultant, or advisor for entrepreneurial organizations? If so, let's do a great show together – and we can promote you to our audience on all our social media channels, website, and email list.

Guest requirements:
As a coach, you should be experiencing some very good momentum AND be grossing $100K or more annually. We'll be talking about how you help your clients achieve extraordinary results.
Consider yourself as equally people and results-oriented in your mission.
High-authority expert management and independent coaches who work with founder-led entrepreneurial organizations of 40 or more employees. We also encourage guests that are operations/strategy and culture consultants, advisors, and leadership coaches to be guests (no specialties in marketing, branding, sales, or IT, please
Please, no new coaches (under 3 years), published authors, non-independent coaches, or non-business coaches/consultants.