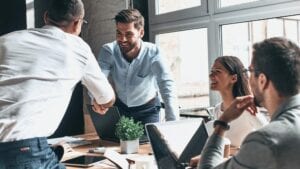 Who Do You Have On Your Team?
Understand who your team members really are
DISCOVER HOW YOUR TEAM IS WIRED!
Get access to a full leadership style profile of your team and each team member for FREE!
WISH YOU COULD SEE BEHIND THE CURTAIN?
Many leaders are missing out on all their team has to offer because they don't recognize all of the strengths of each style. Many teams never reach their maximum potential because they fail to understand and synergize the four leadership styles. Do any of these issues ring true for you or your team?
Do you hate meetings and all the conflict they seem to cause?
Do you struggle to get things done between meetings?
Does momentum die when you take your hands off the wheel?

Do some of your team members seem less strategic than others?
Do you know if you have all the styles you need on your team?
Do you wonder why some team members work well together and others don't?
OPENINGS ARE LIMITED
THE FOUR LEADERSHIP STYLES
An introduction to all four styles
Length: 2:22
---
Who do you need on your team? To reach your maximum potential as a leader and achieve legendary success you need to have the right people on your team. That means having all four leadership styles represented. Here's a
THE TEAM LEADERSHIP STYLES REPORT
Why do so many leadership teams who succeed at one level fail to perform at the next stage?
We've all heard the saying, "What got you here won't get you there," and that is undoubtedly true in leadership.
Yet, we often mistakenly believe that this is merely a question of capacity. Sure, leadership capacity is a factor, but of equal importance is leadership style. And by style, I don't mean laid back or authoritarian.
Instead, in the Synergist model (developed by Les McKeown of Predictable Success), there are four distinct leadership styles. While each has its own strengths and weaknesses, all four bring a vital contribution to any team looking to perform at a high level.
The four leadership styles are
The Visionary: The 30,000 foot thinker with ideas big enough to solve any challenge
The Operator: The finisher who knows what needs to be done and gets it done
The Processor: The systems think who creates consistency and efficiency
The Synergist: The relational glue that holds high-performing teams together
The differences between each of the styles can be quite dramatic, often representing opposite ends of the spectrum.
This creates immense challenges for teams who have not taken the time to adequately understand what each style brings to the table.
What's included in your report
In this report, you'll find a brief description of each of the four styles, your team's individual and combined assessment results, and several key strategies for avoiding common conflicts and growing together as a team.
OPENINGS ARE LIMITED
HOW IT WORKS
We know you and your team are incredibly busy, so we've worked hard to make this process as quick and easy as possible. Here's how it works.
STEP 1: SELECT
Simply select which leaders you would like to include and and enter their name and email address.
SwTEP 2: ASSESS
We will email each of your leaders an assessment link. The assessment won't take more than 20 minutes.
STEP 3: REPORT
We will compile the results and send you the complete report full of powerful insights about your team!
OPENINGS ARE LIMITED
A DEEPER LOOK AT EACH STYLE
In the videos below, you'll find a brief introduction to each leadership style. These videos are part of four separate series that you and your team members will be able to access to learn about their individual styles strengths, weaknesses, and personal growth strategies.
The Visionary
Visionaries answer the question, "Why?"
Visionaries, one of the three natural styles in the Synergist model, embody the "Why?" of life. Their passion, creativity, enthusiasm, charisma, and optimism is incredibly infectious. You can't help but think bigger in the presence of a strong visionary. Just having a Visionary in the room can lift spirits and create greater optimism and enthusiasm on the entire team, aligning them and inspiring them to go after that singular purpose.
The Operator
Operators answer the question, "What?"
Unlike Visionaries who like to start and solve, Operators ruthlessly focus on finishing and fixing. They get the biggest endorphin rush when they check a task off their never-ending to-do list. At that moment, no matter how big or small the task is, the Operator is at their peak. They feel powerful, successful, and efficient. And they are!
The Processor
Processors answer the question, "How?"
Processor leadership is one of the great paradoxes that modern leadership literature can't explain. They are risk-averse, detail-oriented, and often introverted, but they are leaders nonetheless. They are at their peak when they are systematizing and supervising. Unlike Visionaries and Operators, Processors can stick with projects for the long haul, continuing to extract value and doing so ever more efficiently.
The Synergist
Synergists answer the question, "Who?"
Unlike Visionaries, Operators, and Processors, natural Synergists are very rare. Synergistic leadership is typically a learned style. Fortunately, it is the easiest style to learn, and growing your Synergist skillset doesn't detract from your Visionaries, Operators, or Processor capabilities at all. Instead, it enhances them, making your strengths more accessible to the other types.
OPENINGS ARE LIMITED

WHAT IS YOUR LEADERSHIP STYLE?
Have you identified your style yet? The truth is we each have a little of all four styles. Take the quiz today to find out what your primary style is and how you score in all four categories.